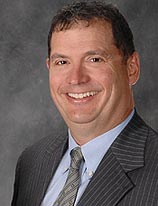 Adam J. Altman

Adam J. Altman M.D., a Corneal specialist, joined Eye Consultants of Pennsylvania (then West Reading Ophthalmic Associates) in August, 1995. Dr. Altman received his undergraduate degree with Honors in Economics at the University of Massachusetts at Amherst, Magna cum Laude, in 1980.
In 1984 he worked as a researcher at Harvard Medical School's Howe Labratory of Ophthalmic Pathology, where he first authored several original research publications.
He received his medical degree from the University of Massachusetts Medical School with numerous honors in 1985, graduating in the top 10% of his class.
He performed his ophthalmology residency at the world renowned Duke University Medical Center in Durham, North Carolina from 1986 to 1989. In 1989 he served as Chief Resident of both the Durham and Asheville Veterans Administration hospitals.
Dr. Altman was then awarded a Cornea and External Eye Disease fellowship at the prestigious Wills Eye Hospital in Philadelphia, Pennsylvania, graduating in 1990. He was certified by the American Board of Ophthalmology and National Board of Medical Examiners in 1990.
During his career, Dr. Altman has been active in clinical research. He has enjoyed mentoring other physicians and students and teaching them the finer aspects of Cataract Surgery, All Laser LASIK, and Corneal transplantation.
Dr. Altman has published widely in the peer reviewed medical literature and regularly lectures to other physicians. He has presented numerous papers at Wills Eye Hospital's Medical Conferences as well as the prestigious New England Ophthalmologic Society. His publications, presentations and research activity include work on Microincision Cararact Surgery, Astigmatism correction, Presbyopia Correction with Multifocal Lens Implantation, LASIK and PRK Laser Vision Correction, Corneal Transplantation and DSEK, Ocular Anesthesia, Streptococcus Pneumonia and Scleritis, Pterygium Surgery, Peripheral Ulcerative Keratitis, Recurrent Corneal Erosion Syndrome, and Reversible focal neurologic deficits in severe iron deficiency anemia. He was a site co-investigator on the nationally noted HEDS study (Herpetic Eye Disease).
He served as an Assistant Professor of Ophthalmology, Cornea Service at Wills Eye Hospital and Thomas Jefferson Medical Center, and in 1992 was one of the cofounders of Wills Eye Hospital's Refractive Surgery Service.
Dr. Altman specializes in
Micro incision cataract surgery with correction of astigmatism
Presbyopia correction with multifocal lens implantation
All-Laser (Bladeless) LASIK
PRK (Advanced Surface Ablation)
Corneal transplantation
DSEK
Pterygium surgery
Dr. Altman performs Laser Vision Correction, (Bladeless LASIK)  on site at the Pennsylvania Eye and Ear Surgery Center using the excimer laser to correct for nearsightedness and astigmatism and reduce or eliminate the need for glasses or contact lenses.
In 2002 Dr. Altman was elected by his peers to be the founding medical director of the Pennsylvania Eye and Ear Surgery Center. He also enjoys staff privileges at the Reading Hospital-Tower Health and the Surgery Center of Pottsville.
Dr. Altman is an active member in the following organizations:
American Academy of Ophthalmology
Pennsylvania Academy of Ophthalmology
American Society of Cataract and Refractive Surgery
Pennsylvania and Berks County Medical Societies
Reading Ophthalmologic Society
During his extensive surgical career he has had the privilege of being trusted with performing delicate eye surgery on many dozens of eye doctors, family doctors, surgeons, and their immediate family members.
Most importantly, Dr. Altman is dedicated to providing the highest level of professionalism and care to all of his patients and achieving the best possible results for their medical and surgical needs.
He has been married to his wife Robin Altman, a (Child and Adolescent Psychiatrist, Author, and occasional standup comedian) for 25 years, and they have two partially grown sons.