Best Eye Doctors in Pottsville, PA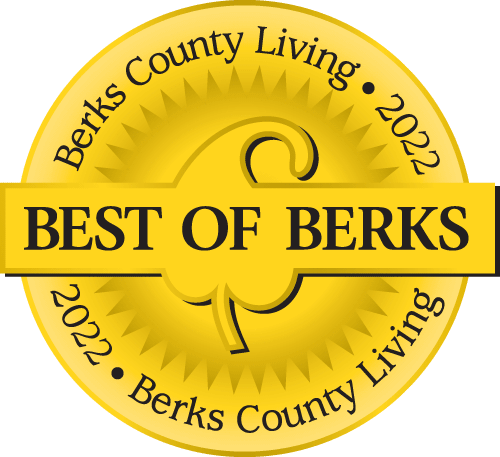 Voted Best of Berks—
eight years in a row!
Do you know that eye exams are recommended for children age one year or younger? Your pediatrician or family doctor may notice signs of an eye problem, and referral to an eye specialist is key to your child's health. Fortunately, the best eye doctors are in Pottsville PA, ready to see your child for an eye exam.
What Does The Exam Involve?
For infants one year and younger, our expert eye doctors will perform a comprehensive eye exam to check for nearsightedness (myopia) and farsightedness (hyperopia). They will also check for astigmatism, which can indicate an abnormal eye shape that causes blurred vision. The doctors will also check to make sure your child's eyes react normally to changes in darkness and light, how the eyes move, and how the eyes line up.
Often in children, one eye is weaker than the other because the brain area for one eye was not as fully developed. This is called amblyopia, and we check for that as well. Amblyopia is more commonly known as lazy eye, and is the most common cause of childhood vision problems. The condition can be reversed when detected early. Treatment involves putting a patch over the stronger eye or blurring the vision in the stronger eye to strengthen the other eye.
The eye exam recommended for children ages 3 to 5 is a bit different. The physical exam is the same, but the child will be asked to do a vision screening to identify pictures or letters to check visual acuity. We make it fun, like a game, to engage the child. It is very important to correct visual acuity early so that the child's sight can properly develop.
Preparing For the Appointment
If your child is old enough to understand that he or she is going to an eye appointment, discuss it with the child and explain what will happen during the visit. Tell the child that they will play a game looking at pictures or letters, and tell the child that he or she may look at lights on a wall. The doctor may put drops in the child's eyes but the drops won't hurt. It is important to be honest. When you get here, we can answer any questions you or your child has, and we will definitely spend time reassuring the child.
Selecting A Doctor
Selecting an eye doctor for your child or any family member is an important healthcare decision. Physician training and experience are important, so be sure to look at the doctor's credentials and years of experience. While the doctor's credentials are important, you also want to make sure that you have an amazing medical team of professionals. At Eye Consultants of Pennsylvania, we offer comprehensive services ranging from annual vision exams to treatment and monitoring of eye diseases and conditions. Our entire team is dedicated to ensuring you receive the highest level of quality care and professional service.
We have both optometrists and ophthalmologists. Optometrists provide complete vision care and are trained to diagnose and treat common eye diseases. Our ophthalmologists diagnose and treat more complicated eye conditions and perform eye surgeries like cataract removal or LASIK surgery.
We know you will find the right eye care team for your family at Eye Consultants of Pennsylvania. Fortunately for you, the best eye doctors in Pottsville PA are close by. Give us a call today. We are ready to be your eye care provider.
Physician information including education, training, practice location and more.
Call 800-762-7132 or make an appointment online.