Cataract Surgery Kutztown PA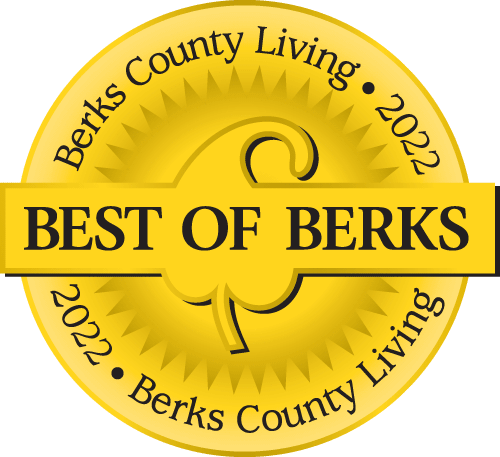 Voted Best of Berks—
eight years in a row!
Have many of your friends had cataract surgery? Do you suspect you have a cataract, but are worried about the surgery? Don't be. Cataract surgeries are safe and short. Best of all, the surgery is uneventful and has a very easy recovery. Choose the best surgeons in Pennsylvania – the cataract specialists at Eye Consultants of Pennsylvania. We have five convenient locations in Berks, Schuylkill, Montgomery and Lebanon Counties. Our location in Blandon PA serves patients who need cataract surgery in and around the Kutztown PA area.
What is the surgery like?
You may have cataracts in one or both eyes. We perform surgery on one eye at a time, and the procedure takes only about 10 minutes to perform. Prior to the surgery, we provide medication for you to relax and, after the surgery, we will monitor you for about 30 minutes while you recover from the anesthesia. After that, a friend or family member can drive you home where you can relax for the rest of the day. We will provide you with a pair of sunglasses for the drive home to protect your eye from sunlight glare and you will go home with an eye shield taped over your eye for protection. You'll have to wear the shield for a few hours after you get back home, and we ask that you wear it at night or during naps for a few days after the procedure.
Time to Adapt
Give your eye time to adapt to the surgery. Many patients have blurry vision at first while the eye adapts to the new lens implant. If you experience any discomfort, we recommend over-the-counter pain relievers like acetaminophen.
The day after your surgery, you'll come in for a post-surgery appointment so your cataract surgeon can check healing progress.
There is so much that you can do to speed your recovery. Take the eye drops we prescribe to prevent infection and reduce eye inflammation. Don't try to do too much too soon. You may feel great after your surgery, and that's great, but you need to slowly get back into your normal daily routine to give your eye time to heal. Don't bend or lift because this puts added pressure on your eye. Likewise, avoid strenuous exercise or swimming and try to avoid dust and pollen.
A few hours after surgery, you will be able to shower or bathe, and watch a bit of television or do some light computer work. Following all of these guidelines definitely helps you have a faster road to recovery. Once your first eye is completely healed, we'll have you back to perform surgery on the other eye if that is necessary. Our team usually waits at least two weeks between surgeries.
If you work or live near Kutztown PA and think you need cataract surgery, come see us in our Blandon office location. You'll be in great hands with our Eye Consultants of Pennsylvania surgeons. Give us a call to schedule your cataract procedure today.
Physician information including education, training, practice location and more.
Call 800-762-7132 or make an appointment online.