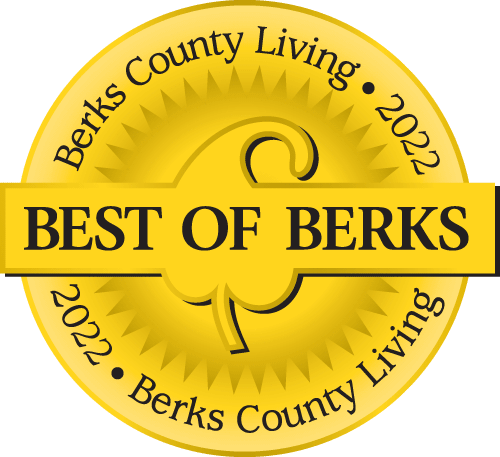 Voted Best of Berks—
eight years in a row!
The cost of LASIK is the biggest obstacle for most patients. However, LASIK surgery can be a wonderful investment in your vision, comfort and quality of life, especially when you compare the cost of surgery to the cost of wearing glasses or contact lenses for the rest of your life.
It may be hard to believe, but it's likely that your contact lenses, contact lens fittings, contact lens solutions and glasses will cost $2,000 to $6,000 over the next 10 years. That is much more than the typical cost of LASIK eye surgery.
LASIK surgery is a very short procedure (less than 15 minutes), in which a laser makes corrections to the tissue on the surface of the cornea. Correcting the steepness of the cornea changes the way light is focused in the eye and may reduce or eliminate your dependence on glasses or contacts.
At Eye Consultants of Pennsylvania, Adam J. Altman, MD, Jonathan D. Primack, MD, and Kevin J. Shah, MD, have a combined 40+ years of LASIK experience and are the only board certified and cornea fellowship-trained LASIK specialists in the area. They prefer the state-of-the-art Bladeless LASIK technique, which modifies the curvature of your cornea with cool laser beams instead of a surgical blade.
However, cutting-edge technology is worthless unless it's affordable. We feel so strongly about the benefits of Bladeless LASIK that we make it as affordable as possible with payment plans that allow our patients to spread the cost over time to fit their budgets. There are several other options that can help you afford the cost of LASIK.
Savings – If you have been saving money in anticipation of your LASIK surgery, paying the cost from your savings will help you avoid accumulating extra debt that will have to be paid off later.
Credit Cards – Credit cards come with high interest fees. Consider this option only if you think you can pay off your credit card before credit card interest adds significantly to the original cost.
Financing – People finance health-related expenses every day – orthodontia for their children, lap band surgery, liposuction, etc. – because these elective procedures are not covered by health insurance plans. The monthly payments are usually very reasonable, and some loans require no down-payment or no payments at all for several months. Eye Consultants of Pennsylvania partners with Diamond Credit Union to offer affordable financing options for our patients.
Health Insurance – Many people think that health insurance plans never cover the cost of LASIK surgery. While most plans consider LASIK to be an "elective" procedure and, therefore, not covered, there are circumstances when they may consider paying something. If, for example, you suffer from dry eyes and are not able to wear contact lenses, or you're unable to wear eyeglasses at work, there may be a "medical necessity" for your LASIK surgery. Other insurance plans may offer a discounted rate for LASIK surgery.
Health Savings Accounts – Depending on your situation, you can use your excess balance in a Health Savings Account to pay for LASIK. You can even plan for it by putting extra contributions into your HAS.
The cost of LASIK surgery should never be the only factor in your decision. Contact the LASIK and cornea experts at Eye Consultants of Pennsylvania at (800) 762-7132 to schedule a free evaluation and get started on the road to better vision.
To schedule a free LASIK evaluation, call (610) 378-8500.
Physician information including education, training, practice location and more.
Call 800-762-7132 or make an appointment online.