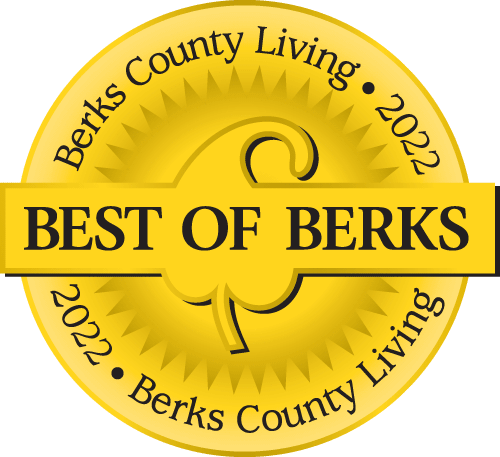 Voted Best of Berks—
eight years in a row!
At Eye Consultants of Pennsylvania in Reading, PA, we tell our patients to never take their eyes for granted. Here are some great eye care tips for how to keep your eyes healthy.
Eye Safety
Definitely wear sunglasses! Ultraviolet (UV) exposure damages eyes and increases the likelihood you will develop macular degeneration and cataracts. You need proper sunglasses to block 99 to 100 percent of both UVA and UVB rays. Come see us, and we can help you choose the right lenses. We have everything from wraparound lenses to polarized lenses. We even have contact lenses that offer some UV protection.
We also recommend safety eyewear if you work with hazardous materials in your job or at home with a hobby. Safety glasses or protective goggles are both great options. We also help athletes choose the appropriate eye protection. We regularly work with members of lacrosse, ice hockey, and other teams to outfit them with the proper eye protection to avoid eye injury.
These days, we all spend a lot more time on the computer, whether at work or at home. Prolonged computer use can cause eye strain, dry eye and trouble focusing at a distance. It's always a good idea to have an up-to-date glasses or contact lens prescription. Experiencing eye strain? Come talk to us about it!
If you are a smoker, there are so many reasons to quit, including better eye health. Smokers are much more likely to develop cataracts and macular degeneration and much more likely to incur damage to the optic nerve.
Nutrition
Good nutrition leads to good eye health. Vitamins and nutrients like omega-3, vitamins C and E and lutein are very important in fighting age-related vision issues like cataracts and macular degeneration. Oily fish like tuna and salmon are a great source of omega-3. Dark green leafy vegetables like spinach and kale are packed with vitamins. Protein sources like eggs, beans and nuts are important as are citrus fruits as a source of vitamin C.
Regular Eye Exams
We all need regular eye exams, and they should start early, when a child is still very young. We recommend at least an annual eye exam at every age. Many eye diseases have no symptoms, and regular eye exams are the only way to detect them. Early detection is key; when we catch diseases early, they are easier to treat.
A comprehensive eye exam includes us taking a personal and family medical history, vision tests and tests to see how well your eyes work together. We perform a dilated eye exam, and we also test eye pressure and your optic nerve to check for glaucoma.
You can see an optometrist for general eye care, or an ophthalmologist who is a medical doctor who specializes in eye care; they treat eye diseases and perform eye surgery.
We Are Here For You
Eye care at our Reading PA facility is very conveniently located, and we have convenient hours and doctors on call for after-hours eye emergencies that might arise. You can't go wrong making Eye Consultants of Pennsylvania your home for eye care. We are ready for you to be our next new patient. Give us a call today to schedule your next appointment.
Physician information including education, training, practice location and more.
Call 800-762-7132 or make an appointment online.