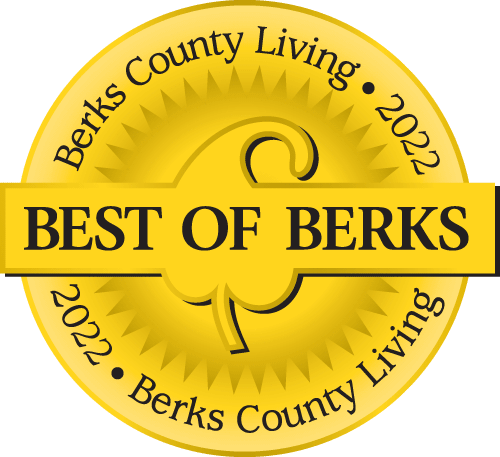 Voted Best of Berks—
eight years in a row!
With a reputation that spans nearly 50 years, Eye Consultants of Pennsylvania is recognized as the leading ophthalmology practice in the region, including Berks and Schuylkill counties. When you need an eye doctor in the Hazelton, PA area, we set the standard in the field of LASIK laser vision correction, cataract removal and lens implantation, retina care and glaucoma management.
Our staff includes a nationally-recognized team of specialized ophthalmologists, ophthalmic surgeons and other eye care professionals who have been trained by some of the most respected medical facilities in the world and offer a wide variety of eye care services.
What is the difference between an ophthalmologist, an optometrist and an optician, and which one should you see?
Optometrists
Optometrists (also known as ODs or Doctors of Optometry) are eye care professionals who provide primary vision care. They perform comprehensive eye exams, vision tests, diagnose and treat many eye conditions, including glaucoma, macular degeneration, cataracts, retinal disease and other ocular disorders, prescribe and fit corrective glasses and contact lenses, and prescribe medication for certain eye conditions.  Optometrists are not generally trained or licensed to perform surgery, but can conduct pre-surgery and post-surgery care.
After college graduation, optometrists need four years of post-graduate training to earn a doctor of optometry (OD) degree. They must pass rigorous exams to earn their licenses, and are required to meet continuing education requirements to maintain them.
Ophthalmologists
Ophthalmologists are medical doctors (MD) or osteopathic doctors (DO) who specialize in the eye. They are trained to perform surgery, such as LASIK laser vision correction, cataract removal, retinal detachment surgery, as well as surgery related to eye trauma. They have additional training in the diagnosis and treatment of complex eye conditions, and they can prescribe a broader range of prescription medications than optometrists.
In general, ophthalmologists need at least four years of college, four years of medical school, one year of internship, and a minimum of 3 years in a hospital-based ophthalmology residency to earn their medical degrees. Some ophthalmologists are also fellowship trained, which means they have gone through extensive additional training under the guidance of highly-qualified experts in the field of ophthalmic surgery. This extra training focuses on the highest standards of care.
Opticians
While opticians are not eye doctors, they are another important part of your vision care. Opticians are technicians who are trained to use a prescription provided by an optometrist or ophthalmologist to design and fit corrective lenses and frames. They typically receive a one or two-year degree or certification, and are not qualified to diagnose or treat vision problems or eye diseases.
Which One Do You Need?
If your eyes are generally healthy and you need only routine eye exams, both optometrists and ophthalmologists are qualified to provide your care. The choice is up to you.
If, however, you have or think you may have cataracts, glaucoma, diabetic retinopathy, a detached retina, macular degeneration, or another serious eye problem, you should seek care from an ophthalmologist who is trained to treat these conditions.
Vision correction surgery, such as LASIK or PRK, must be performed by an ophthalmologist. Although most eye surgeons work closely with optometrists on screening and care for surgery patients, optometrists are generally not licensed to perform surgery.
One factor that sets Eye Consultants of Pennsylvania apart from other practices is that all of our doctors are board certified in their fields, and our surgeons are all fellowship-trained. We are committed to providing you with the best possible care and treatment.
If you are looking for an exceptional eye doctor in the Hazelton, PA area, Eye Consultants of Pennsylvania can provide you with the highest caliber of eye care in the region. Give us a call today to schedule an appointment.
For an appointment, call toll-free 1-800-762-7132.
Physician information including education, training, practice location and more.
Call 800-762-7132 or make an appointment online.