Eye Doctors in Muhlenberg, PA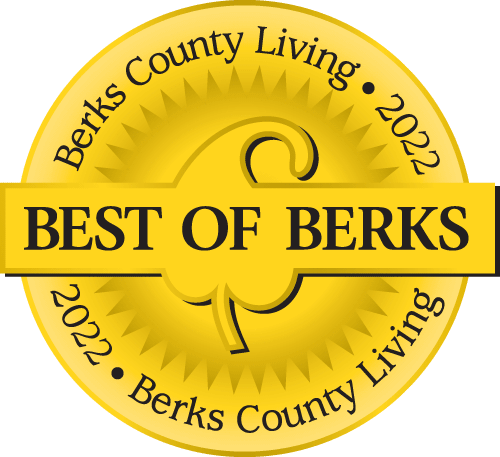 Voted Best of Berks—
eight years in a row!
Do you need new glasses? Are you having problems with your vision? Regardless of the type of eye care you need, people who live or work in Muhlenberg, PA have eye doctors close by in Wyomissing. We provide comprehensive eye care at Eye Consultants of Pennsylvania.
What doctor do I need?
Optometrist, ophthalmologist or optician? What do I need? This is a very common question that our new patients ask. Each specialist does different jobs. Opticians are not doctors but are trained professionals who help people select and fit prescription eyeglasses.
Optometrists and ophthalmologists are both medical doctors but offer different care. Either doctor can write the prescription for the eyeglasses, and both give eye exams. After college, optometrists enter a four-year program, and also do a one-year residency program. They have an OD (Doctor of Optometry) degree. On the other hand, ophthalmologists attend medical school for four years, followed by a four-year residency program. These doctors get either an MD degree or a DO (Doctor of Osteopathic Medicine) degree. Most ophthalmologists also do a fellowship program to specialize in a certain area such as glaucoma or cataract surgery.
While optometrists can handle nearly all the same aspects of eye care that an ophthalmologist can, only an ophthalmologist can perform surgeries. At Eye Consultants of Pennsylvania, we perform many eye surgeries such as glaucoma surgeries, LASIK and cataract surgeries.
Which doctor is best for you?
The answer to this question depends on your needs. Many patients simply require eye exams and updated prescriptions for glasses or contact lenses. Optometrists are the best option for contact lens wearers and are often required when contact lenses are difficult to fit.
As already mentioned, you will need an ophthalmologist for any surgery, as well as treatment of serious eye conditions like diabetic retinopathy or macular degeneration.
Our optometrists and ophthalmologists often work together on a patient's eye care, and both doctors also work with your other physicians to ensure comprehensive care. For example, optometrists refer patients to an ophthalmologist in cases of hard-to-manage glaucoma, cataract surgery, detached retina and uncontrolled eye infections, just to name a few.
Leave the decisions to us. Your job is to come in for a comprehensive eye exam. Regular annual eye exams are one of the best steps you can take to protect your health. Did you know that many diseases are caught early only through an eye exam?
Our team will certainly point you to the right specialist for your needs. If you initially see one of our optometrist and he or she feels you need to see a different doctor or specialist, we will make that referral.
Has it been a while since your last eye exam? If so, don't delay. Make an appointment with Eye Consultants of Pennsylvania today. If you live or work in Muhlenberg, PA, our glaucoma specialist is in nearby Wyomissing. We look forward to you becoming our next new patient. Schedule an appointment on our website Eye Consultants of Pennsylvania or call us at 610-378-8500. We look forward to meeting you.
Physician information including education, training, practice location and more.
Call 800-762-7132 or make an appointment online.