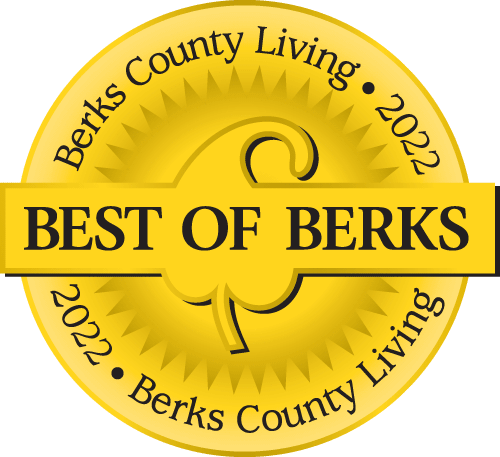 Voted Best of Berks—
eight years in a row!
If you are in need of an eye doctor, of course you are searching "eye doctors near me." Having a local eye doctor is so important, and the doctors at Eye Consultants of Pennsylvania have several convenient locations, so you'll be sure to find one that suits all your eye care needs.
When you have a local eye doctor, it's easy to come in for your annual comprehensive eye examination. These exams are crucial for helping our eye doctors detect diseases like diabetes, glaucoma and macular degeneration. A comprehensive eye exam is often the best method of early detection. For example, diabetes damages the eyes, but there are no symptoms, so you won't even know you have the damage until it is too late. Glaucoma is the same way; although over four million people in the United States suffer from glaucoma, fewer than half even realize it because glaucoma has no symptoms. Therefore, an annual thorough dilated eye exam is extremely important, particularly for our patients over age 60.
Many of our patients are not thrilled about having a dilated eye exam. They're too busy and they don't have time. We understand, but the effects of a dilated eye exam fade quickly. The benefits of a dilated eye exam far outweigh the inconvenience. It is so important for our local eye doctors to have a detailed understanding of your current state of eye health.
Dry Eye and Diabetes
When you have a local eye doctor, you can easily come in to any one of our Pennsylvania offices for help with discomfort you may be experiencing, such as symptoms of dry eye. Our doctors will determine the severity of your dry eye condition, and prescribe artificial tears to help lubricate the eyes to maintain moisture.
Cases of diabetes are rapidly increasing across the globe. Did you know that the number one cause of blindness in the United States is diabetes? Diabetics are 25 times more likely to lose vision that those without the disease. Diabetes causes major damage over time to the blood vessels in the eyes. It's called diabetic retinopathy, and is characterized by damage from leaky vessels that can eventually lead to severe vision loss.
If you have recently been diagnosed with diabetes, we urge you to come see us for a full eye exam as soon as possible. Furthermore, our eye doctors recommend that you get a detailed eye exam at least once per year. Performing regular and thorough dilated-eye retinal exams is an effective way to check for any diabetic complications.
With proper eye care, the large majority of patients can avoid vision loss with proper, timely treatment. At the very early stages, diabetic retinopathy has no symptoms and patients experience little to no change in vision. Please call our office to schedule this important appointment; we want to work with you early on.
Eye Emergencies
Most people never think they'll have an eye emergency, then it happens when you least expect it. We accommodate same-day appointments to handle such emergencies, and our doctors are also available for after-hours consultations.
Our local eye doctors at Eye Consultants of Pennsylvania want you to be our next new patient, so if you are searching for "eye doctors near me", we're close by! Give us a call today.
Physician information including education, training, practice location and more.
Call 800-762-7132 or make an appointment online.