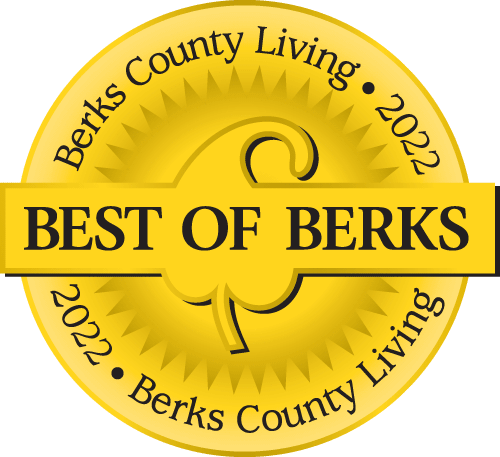 Voted Best of Berks—
eight years in a row!
The decision to have LASIK is a big one, but the next step is easy. What is it? A free LASIK consultation, which we offer every day at Eye Consultants of Pennsylvania. Even better, we have several convenient locations for you to choose from. What is the first visit like? Here's what to expect.
Medical history
Please bring your medical history with you to your first visit. Be sure to include a list of all prescription and non-prescription medications and nutritional supplements you are currently taking. We'll ask about your health, any underlying diseases like diabetes, and your eye health. This history helps us determine whether you are a LASIK candidate. While most patients are, certain conditions like autoimmune disorders or diabetes might be an issue. Also write down your family history of any diseases and bring it with you. Be sure to include a family history of eye diseases in that list, and also include any past or present eye diseases or past eye surgeries that you've had. We want to make sure that any of these conditions do not affect your ability to have LASIK surgery. If our team determines that you are a high-risk patient or that you are not a good candidate for LASIK, we can discuss the reasons behind our recommendation, and also discuss alternatives for vision correction.
During this initial conversation, we will discuss lifestyle factors. Are you a smoker? What kind of work do you do, and what are your hobbies? We want to understand your goals and expectations for LASIK, and we want to make sure that LASIK will fit into your lifestyle.
Comprehensive eye exam
After this initial conversation, we'll move on to the eye exam. A LASIK exam is very similar to the regular annual eye exam you are used to, but we do perform a dilated eye exam to allow us to more easily look at the cornea and eye structures. During the exam, we will measure visual acuity, meaning the uncorrected and corrected vision you currently have. If we find cataracts, we may not perform LASIK and will discuss other alternatives.
We will take measurements of pupil size and corneal thickness and will also examine the corneas for any surface irregularities. We use a technique called corneal topopgraphy to make a unique map of the corneal surface. The result is a customized map of your corneas' characteristics and features. Every cornea is unique, and the surgeon uses your map to guide your LASIK surgery.
Dry eye testing is also part of the LASIK eye exam that you may not have done before as part of a regular eye exam. Our goal is to determine your baseline measurement of dry eye, and if you already have dry eye, you may experience fairly strong dry eye symptoms after LASIK. Determining your baseline helps us know how to treat post-surgery dry eye. In some cases, LASIK must be postponed until the dry eye is improved with treatment.
Schedule Today
LASIK is a great decision. It is one of the safest surgeries you can have, and it is a very effective vision correction. Now that you've made this great decision, it is time for your free LASIK consultation. Come see us at Eye Consultants of Pennsylvania office. Call us at 570-621-5690 or go online to schedule your initial appointment with us today.
Physician information including education, training, practice location and more.
Call 800-762-7132 or make an appointment online.