Free LASIK Evaluation Wyomissing, PA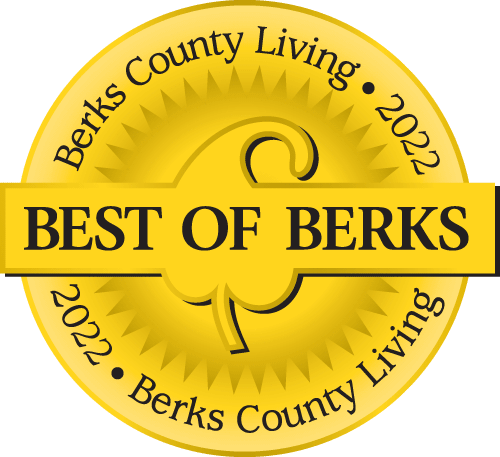 Voted Best of Berks—
eight years in a row!
You really want LASIK surgery, but you have questions. We understand. This is why we offer a free LASIK evaluation for Wyomissing PA residents. Come in to Eye Consultants of Pennsylvania in nearby Blandon for a consultation where we can evaluate you and answer all your questions.
The eye exam
Here's what to expect at your first visit. We'll talk about your expectations for the surgery, and perform an eye exam that is likely very similar to the regular eye exam you have every year. We do perform a dilated eye exam to more closely examine the eye structures. We will measure your pupil size and visual acuity, meaning your uncorrected and corrected vision numbers and will look at your eye function in both light and dark conditions. Our team will also measure corneal thickness and look for any corneal irregularities.
One thing that is different about a LASIK eye exam is the creation of a corneal topopgraphy map. This is a unique map of the surface, features and characteristics of your cornea. Every cornea is unique and the surgeon will use this map as a guide to vision correction during the LASIK surgery.
While most people are candidates for LASIK, there are some instances that may mean that LASIK is not the best procedure for you. For example, if you have a cataract on your lens, we may not perform LASIK. However, there are other alternatives for vision correction that we will discuss. You may have a baseline dry eye level that is too high, and we might have to postpone the LASIK surgery in order to first correct the dry eye. Patients with high levels of dry eye have a higher risk of very severe dry eye after the LASIK surgery. We may also want you to take a fish oil supplement to boost the quality of your tear fluid.
Medical history
While most people are candidates for LASIK, we always need a detailed medical history to rule out any complicating factors. We'll talk about this during your initial visit, so please bring notes and records. We'll need information on your family history of any diseases, including eye disease and a complete list of medications and supplements you are currently taking. If you have diabetes or certain autoimmune diseases, LASIK may not be a good choice. If you've had a history of eye diseases or previous eye surgeries, we will closely examine that as well. If you end up not being a candidate for LASIK, we will recommend alternative procedures for vision correction.
We will also ask about lifestyle factors such as whether you are a smoker and other questions to gain information about anything that may affect healing after the surgery. We'll also discuss your work and hobbies to understand your goals for having the LASIK surgery and your expectations for your vision.
Give us a call
You've taken a big step in deciding to have LASIK vision correction, an extremely safe and effective surgery. Take the next step! Come in to see us for a free LASIK evaluation. Wyomissing PA residents can schedule at our nearby Blandon Eye Consultants of Pennsylvania office. Call us at 570-621-5690 or go online to schedule your initial appointment with us today.
Physician information including education, training, practice location and more.
Call 800-762-7132 or make an appointment online.