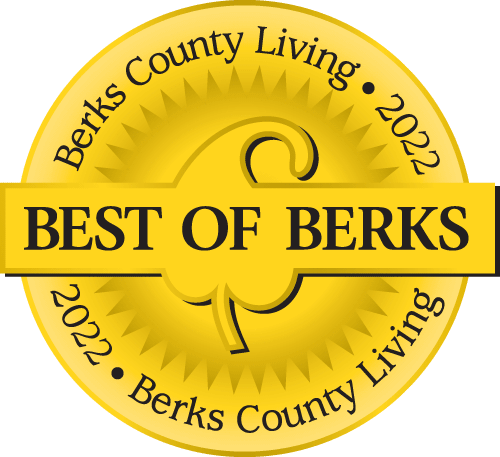 Voted Best of Berks—
eight years in a row!
Your friends and family have it, and now you want it. LASIK surgery! You've taken a big step and decided to do it to have better vision. The next step is a free LASIK evaluation at one of our Eye Consultants of Pennsylvania convenient locations.
The Initial Appointment
During the initial free LASIK evaluation, we will start by discussing your goals for the surgery. We'll explain the different types of LASIK surgery, and outline why our surgeons prefer the custom bladeless LASIK procedure. This state-of-the-art technique allows the surgeon to make more targeted corrections to your vision. Our professional team will do a comprehensive eye exam to make measurements of visual acuity, dry eye level and corneal thickness.
We will use a 3D blueprint (map) of your cornea; it is a painless non-invasive imaging procedure that we will perform during this first visit. We use the map and other techniques to ensure you are a candidate for the procedure. Most patients are. During the surgery, the surgeon then uses the map to guide the LASIK vision correction. In fact, the corneal map is so accurate that it allows us to identify tiny imperfections that we can then correct during your LASIK procedure. The map is customized to your eye, therefore we can create a customized LASIK procedure to correct your eye's unique imperfections. The surgery is customized for you and the result is amazing vision!
We'll Answer All Your Questions
Our team likes to take time during this initial consultation to discuss your expectations for the surgery and make sure we answer all your questions. We firmly believe that the best patients are educated patients, so we make sure you have all the information about LASIK so that you can make a truly informed decision.
Of course you'll have questions, and we want you to ask us anything. One of the most frequent questions we are asked by patients is whether there will be post-surgical complications. Complications can occur in any surgical procedure, but complications from LASIK are uncommon. LASIK is one of the safest procedures you can have. Most often, patients experience dry eye, and if you have dry eye prior to the surgery, the condition can be more pronounced immediately after surgery. For this reason, we perform a dry eye test during the initial consultation. If your dry eye is severe, we may treat it prior to the surgery, and may even postpone the LASIK procedure for a short time to allow your dry eye to improve. After the surgery, we will provide eye drops to help with the dry eye. The eyes may feel itchy for a couple of days as the eyes heal, and the dry eye drops and the antibiotic drops will help this symptom.
Ditch Your Glasses!
LASIK is very appealing because it offers the chance to get rid of your contact lenses or glasses. Our patients always wish they had done LASIK sooner. It is important for our patients over 40 to know that even after LASIK, you may still have to wear reading glasses due to a normal condition called presbyopia that occurs with aging. It is unrelated to the LASIK procedure itself.
Our patients tell us that LASIK is completely liberating. Come visit with one of our three LASIK surgeons: Dr. Adam Altman, Dr. Jonathan Primack or Dr. Kevin Shah. All three are corneal fellowship trained and all prefer the bladeless LASIK procedure. Come see us soon for your free LASIK evaluation at one of our convenient Eye Consultants of Pennsylvania locations. Go online or call us at 570-621-5690 to schedule your initial appointment with us today.
Physician information including education, training, practice location and more.
Call 800-762-7132 or make an appointment online.