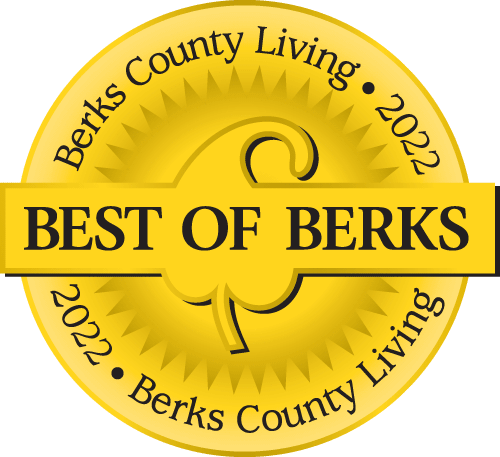 Voted Best of Berks—
eight years in a row!
Nothing is more important than your child's vision. Eye Consultants of Pennsylvania specializes in advanced eye care for children, including diagnosis and treatment of glaucoma, cataracts, strabismus (misaligned eyes), amblyopia (lazy eye), refractive errors (nearsightedness, farsightedness, and astigmatism), eye coordination problems, and other conditions that affect the vision of infants, children and young adults.
About Childhood Glaucoma
Glaucoma that begins before a child is 3 years old is called infantile or congenital glaucoma. According to The Glaucoma Foundation, congenital glaucoma is relatively rare, affecting one in every 10,000 babies born in the U.S. It is usually caused by improper development of the cells and tissue in the eye's drainage system before birth. The backup of fluid inside the eye increases intraocular pressure and causes damage to the optic nerve.
Glaucoma that occurs in children over the age of 3 is usually called childhood or juvenile glaucoma. Although it may be hereditary, glaucoma in older children is often secondary to other eye disease or an underlying disease that affects the child, such as neurofibromatosis, aniridia or Sturge-Weber Syndrome, or previous eye surgery, such as childhood cataract removal.
Treatments for childhood glaucoma focus on reducing pressure in the eye with medications and/or surgery. Most cases of infantile glaucoma are treated with surgery. Trabeculotomy and goniotomy, which open the drainage canals, are the most common procedures. Eye drops and oral medications are the primary treatments for childhood and juvenile glaucoma.
Many children with childhood glaucoma also develop myopia (nearsightedness) and require glasses. Also, amblyopia (lazy eye) and strabismus (crossed or wandering eye) occur more often and may need to be treated with patching or surgery. If not treated, childhood glaucoma can cause permanent vision loss.
How Eye Consultants of Pennsylvania Can Help
The team of experts at Eye Consultants of Pennsylvania includes skilled pediatric optometrists, pediatric ophthalmologists and glaucoma specialists who are all dedicated to providing the latest glaucoma testing and treatment options for your child.
David S. Goldberg, MD, a fellowship-trained, board-certified Pediatric Ophthalmologist who specializes in pediatric surgery and oculoplastic surgery in children and adults, graduated with distinction from Princeton University and University of South Florida Medical School and received his pediatric ophthalmology fellowship training from the renowned Zane Pollard, MD of Eye Care Associates in Atlanta, Georgia.
Our board certified, fellowship-trained Glaucoma specialists Mehul H. Nagarsheth, MD, who completed his glaucoma fellowship training at Tufts New England Eye Center and Ophthalmic Consultants of Boston, and Abhishek Nemani, MD, who completed his glaucoma fellowship training at the prestigious Scheie Eye Institute at the University of Pennsylvania.
It is important for treatment of glaucoma in children to start as early as possible to prevent vision loss. To ensure that your child receives the best possible eye care, schedule an appointment with Eye Consultants of Pennsylvania. We provide state-of-the-art glaucoma care in Berks County, Lebanon, County, Schuylkill County, and throughout southeastern Pennsylvania.
For an appointment, call toll-free 1-800-762-7132.
Physician information including education, training, practice location and more.
Call 800-762-7132 or make an appointment online.