Laser Eye Surgery Reading, PA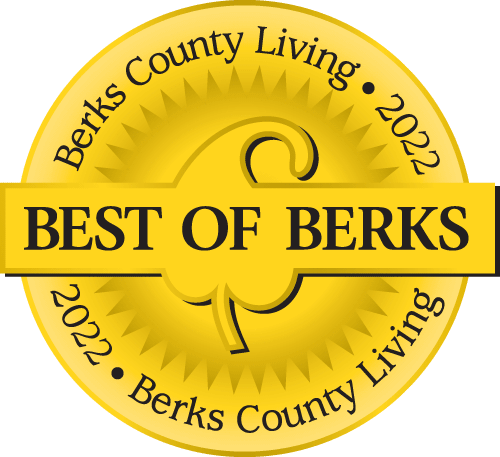 Voted Best of Berks—
eight years in a row!
Are you dreaming of better vision in Reading, PA? LASIK eye surgery is often referred to as laser eye surgery. Why? Because the state-of-the-art LASIK technique is an all-laser technology. Laser eye surgery is just a few minutes away in Wyomissing at Eye Consultants of Pennsylvania, and we have several other nearby locations.
Our preferred LASIK method
Our surgeons prefer the technologically advanced custom bladeless LASIK procedure over traditional LASIK surgery techniques that use a surgical blade. Instead, bladeless LASIK uses two lasers, one to make the incision and one to perform the vision correction. Laser technology allows the surgeon to have more precision in correcting vision, and patients have fewer complications with this technique.
With bladeless LASIK, the LASIK flap is made with a laser instead of a metal blade. This procedure involves two lasers, a femtosecond laser to create a corneal flap, and an excimer laser to reshape the cornea. The laser technique reduces the risks inherent with the use of a surgical blade; infection is the biggest one. The surgeons can also create a much more precise corneal flap, allowing them to correct higher levels of refractive error. So, if you have a high refractive error and have been told in the past that you are not a candidate for LASIK, come see us because we may be able to help you with this state-of-the-art procedure.
Most patients are good candidates for bladeless LASIK, but people with thin corneas or very high levels of refractive error may not be. We do offer alternate laser eye surgical procedures such as PRK (Photorefractive Keratectomy). The procedure is generally the same, but the surgeon removes cells from the cornea instead of creating a flap on the cornea's surface. The excimer laser is applied in the same way as in LASIK to reshape the cornea.
What is laser eye surgery like?
We perform both PRK and LASIK as outpatient procedures right in the comfort of our Wyomissing (or other) offices. Both procedures last about 10 minutes for the active portion of the surgery. There is a short pre-surgery prep, and then after surgery, we will monitor you for about an hour. At that point, your family member or friend who accompanied you to the appointment can drive you home to rest for the remainder of the day.
Patients try to sleep the rest of the day, and when they awaken the next morning, they are astonished at the improvement in vision. Over the next few days, as the eyes heal, vision becomes even sharper. In most patients, we can achieve 20/20 vision or very close to it.
Drs. Altman, Primack, and Shah are our laser eye surgeons; all are board-certified and very experienced refractive surgeons in Berks County. We would love for you to schedule a consultation to meet one of these fine surgeons and discuss the procedure with you.
Have you considered LASIK eye surgery? If so, your next step is to come see us at Eye Consultants of Pennsylvania in our nearby Wyomissing office. Laser eye surgery has many benefits. If you are in Reading, PA, laser eye surgery is close by at one of our convenient locations. Give us a call to schedule your initial consultation today.
Physician information including education, training, practice location and more.
Call 800-762-7132 or make an appointment online.