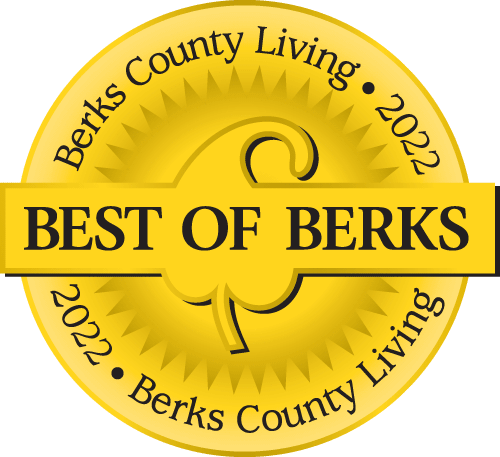 Voted Best of Berks—
eight years in a row!
Not only does LASIK surgery address refractive conditions, such as myopia (nearsightedness) and hyperopia (farsightedness), the procedure can safely and effectively correct relatively high levels of astigmatism as well.
Astigmatism occurs when the cornea is shaped more like a football than a baseball. The oval shape causes light rays to bend unequally when entering the eyes, resulting in vision distortion. People with high degrees of astigmatism usually have blurry vision for both close-up and distant objects and often complain of headaches and eye strain.
Even patients with astigmatism who wear glasses or contact lenses continue to suffer with blurry vision at times. Reshaping the cornea, however, can improve vision quality. For this reason, laser vision correction surgery, such as LASIK, can be a promising option for many patients with astigmatism.
Adam J. Altman, MD, Jonathan D. Primack, MD, and Kevin Shah, MD, of Eye Consultants of Pennsylvania, are among the most experienced LASIK surgeons in Berks County and the only board certified and cornea fellowship-trained LASIK specialists in the area. They offer patients the most technologically advanced technique – Bladeless Custom LASIK – which modifies the curvature of the cornea with cool laser beams instead of a surgical blade.
As little as one decade ago, it was difficult to treat astigmatism using only the excimer lasers used in older forms of LASIK surgery. Today, amazing advances in bladeless laser technology have proven to be effective for people with mild or moderate astigmatism.
What is Bladeless LASIK?
Bladeless LASIK, sometimes called all-laser LASIK, is the most modern, state-of-the-art technology for safe, accurate and customized vision correction.
In traditional bladed LASIK, the surgeon uses a specialized surgical instrument, called a microkeratome, to cut a hinged flap on the cornea. The flap is lifted up and the surgeon applies pulses of laser energy from an excimer laser for 30 to 90 seconds to reshape the cornea. The surgeon closes the flap, and it heals itself quickly.
In bladeless LASIK surgery, no microkeratome is used. The surgeon instead focuses infrared laser energy from a Femtosecond laser onto the cornea to create the flap without a blade. As with traditional bladed LASIK, the flap is lifted up, the excimer laser is used to correct the misshapen cornea, and the flap is closed.
The Femtosecond laser creates a very precise corneal flap and allows for greater corneal stability and the treatment of higher levels of correction. The combination of the two laser devices also reduces the risks associated with a blade passing through the surface of the eye. Bladeless LASIK is superb for the treatment of astigmatism as well as for nearsightedness and farsightedness.
Drs. Altman, Primack and Shah are the most experienced refractive surgeons in Berks County to perform Bladeless LASIK on-site in the convenience of their fully-licensed outpatient surgical facility.
Are you a candidate for LASIK?
Drs. Altman, Primack and Shah are extremely conservative in selecting patients for laser vision correction and use FDA-approved parameters to help them determine who is a good candidate. To determine which treatment option is best for you, they must first determine which type of astigmatism you have.
Some people have irregular astigmatism caused by an eye injury that resulted in scarring on the cornea, or have keratoconus, a disease that causes a gradual thinning of the cornea. LASIK surgery may not be appropriate in these cases. However, refractive surgery such as LASIK can correct most types of astigmatism.
Drs. Altman, Primack and Shah will thoroughly evaluate your eyes by testing for corneal thickness, pupil size, refractive error, etc. They will also review your medical history and discuss your goals and expectations to ensure that you have an excellent chance of obtaining your goals.
If LASIK is not right for treating your astigmatism, there are alternate forms of treatment that may help you regain clear vision. Talk to the board-certified doctors at Eye Consultants of Pennsylvania for help selecting the treatment that best meets your visual and lifestyle needs. To schedule a free LASIK evaluation, call (610) 378-8500.
Physician information including education, training, practice location and more.
Call 800-762-7132 or make an appointment online.