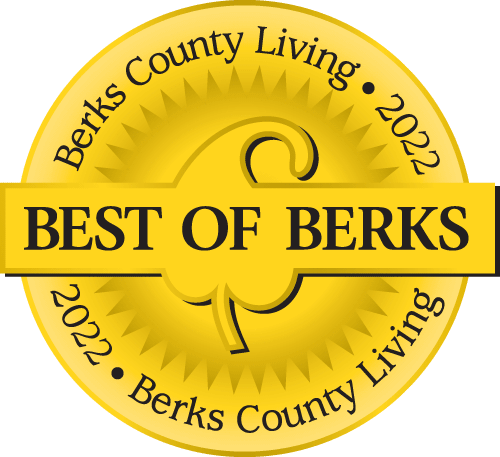 Voted Best of Berks—
eight years in a row!
If you've been considering LASIK vision correction surgery, one of your most important decision is your choice of surgeon. The LASIK doctors at Eye Consultants of Pennsylvania are specialists who use the very latest in bladeless LASIK technology.
Why Choose Us?
Our team at Eye Consultants of Pennsylvania is nationally-recognized. Our surgeons are specially trained in LASIK and other ophthalmic surgeries. We use state-of-the-art surgical techniques and technologies to provide you with the best possible LASIK vision correction.
As you contemplate your choice of a LASIK provider, training and expertise definitely matter. You'll find no better eye care than the care provided at Eye Consultants of Pennsylvania.
The surgeons at Eye Consultants of Pennsylvania are not only board-certified ophthalmologists, but are also cornea fellowship-trained specialists with combined experience of over 50 years treating thousands of patients just like you.
Cornea fellowship programs provide the surgeon with detailed additional training in corneal and refractive surgeries. Our surgeons have trained at the world-famous Wills Eye Hospital in Philadelphia as well as other renowned institutions.
Choosing Eye Consultants of Pennsylvania surgeons means taking comfort that you will have the latest surgical and medical knowledge at your side.
Why LASIK?
Our surgeons use the Bladeless Custom LASIK technique, also known as "all-laser" LASIK, preferring it over all other forms of LASIK. It is safe and effective. Two lasers are used. First, surgeons create a corneal flap using a femtosecond laser. Once the cornea is exposed, surgeons use a second laser called an excimer laser to reshape the cornea in order to correct your vision.
Because every patient is unique, prior to the surgery, our team creates a customized corneal map that we use to guide our vision correction during the surgical procedure.
Bladeless LASIK works particularly well for patients who need a large refractive error correction, have dry eye, or who have not had success wearing contact lenses.
Is LASIK right for me?
The LASIK procedure can be done very quickly, with both eyes completed in under one hour. You will need to be at our office an hour before the procedure, and we will monitor you for an hour afterwards, so that is a three-hour investment in improving your vision. It's worth it!
You can go home and rest for the remainder of the day, and you are able to return to normal activities usually by the next day.
Even though you may know countless people who have had LASIK surgery, we understand that you need to know if it is right for you. Come in and see us for a free consultation.
During your initial visit, we will perform a thorough eye exam and screening. You can speak to the surgeon about your vision restoration goals and expectations and ask us any questions you need to in order to make a decision.
Give us a call today at 610.378.8500 to schedule your free consultation with our LASIK doctors at Eye Consultants of Pennsylvania. We have several convenient locations near to your home or work, so why not get started on your path to better vision today?
Physician information including education, training, practice location and more.
Call 800-762-7132 or make an appointment online.