LASIK Eye Doctor Reviews Reading, PA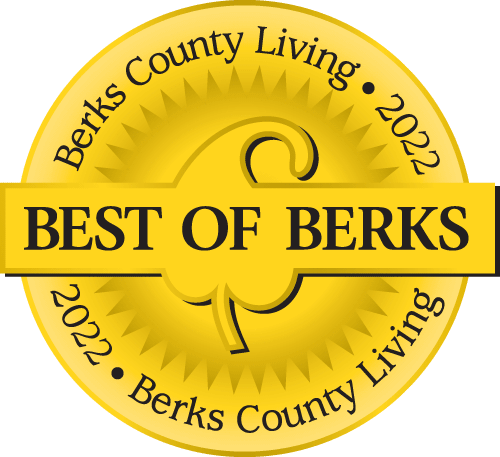 Voted Best of Berks—
eight years in a row!
When considering LASIK surgery, it is very important to do your homework. One way to look for the best surgeon in Reading, PA is to read LASIK eye doctor reviews. Our surgeons at Eye Consultants of Pennsylvania are always at the top of the list.
Why searching for a surgeon is important
LASIK is an acronym for laser-assisted in-situ keratomileusis. Our surgeons prefer the bladeless LASIK technique, which uses two different lasers. The surgeon uses an excimer laser to create a corneal flap and a pulsed femtosecond laser to correct vision. Naturally, you want to choose an experienced surgeon, but how do you begin your search?
The most important criterion is to find a surgeon you can trust. You want to feel comfortable with the surgeon and be able to ask questions to understand the potential risks and benefits. You want a surgeon and eye team that will spend time with you in these discussions. A big part of this conversation is an understanding of what your goals are for vision correction.
You want a surgeon who will do a thorough evaluation. Several types of LASIK exist, so a thorough exam is necessary to find the right surgery type for you. A medical history and eye exam are part of this evaluation.
There are also several other factors to consider.
Licensing and board certification. Surgeons are licensed in a particular state, and the state licensing boards are a good way to validate surgeon credentials. Beyond the basic license, many surgeons have board certifications is specialties. Surgeons must complete continuing education and take a board exam. This provides the patient with added assurance that your surgeon is qualified and experienced.
Eye Consultants of Pennsylvania is the leading eye care practice in the region. We have over 20 experienced ophthalmologists and eye care specialists. Our doctors are some of the best-trained and most experienced and respected physicians in eye care.
Experience. Ask the surgeon how many procedures he or she has performed. Experience translates to skill and competence, so this is an important discussion to have. Visit our website to read about our Eye Consultants of Pennsylvania physicians and professionals.
Technology. LASIK surgical technology has rapidly evolved over the last few years. Our surgeons prefer the state-of-the-art bladeless laser technique over other forms of LASIK. Use of the latest technology translates to you experiencing the safest and most effective procedure. Ask the surgeon about the technology he or she uses. As a reminder, LASIK is a two-step surgical procedure. In the first step, the surgeon creates the corneal flap. The flap is folded back to expose the cornea. In the second step, the cornea is reshaped to correct vision.
Referrals. Many patients get referrals from a family doctor, but many of our patients also get referrals from family and friends. You can always ask for a referral. Our Eye Consultants of Pennsylvania doctors are frequently referred to by other doctors because we have the best professional reputation in the area. We have many happy patients who are simply thrilled with their LASIK results. Most of them say they waited too long and should have had the procedure earlier.
If you are in Reading, PA, LASIK eye doctor reviews and referrals will likely point to Eye Consultants of Pennsylvania. Our patients are thrilled with their LASIK results and most tell us they wish they hadn't waited so long to have the procedure. Come see our surgeons at Eye Consultants of Pennsylvania in nearby Blandon. We can't wait for you to be our next LASIK success story.
Physician information including education, training, practice location and more.
Call 800-762-7132 or make an appointment online.