LASIK Eye Surgeons Near Me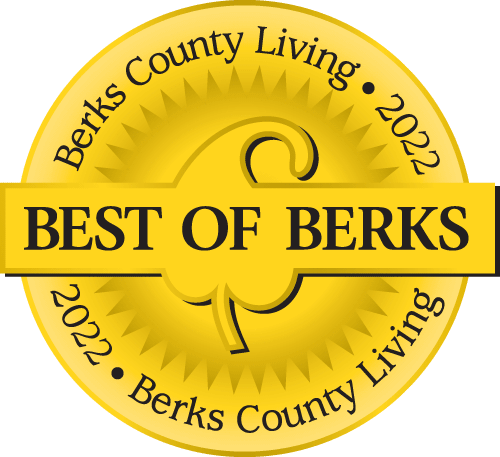 Voted Best of Berks—
eight years in a row!
Are you wondering how to find trusted and experienced LASIK eye surgeons near you? If you live in Berks County, Lancaster County, Lebanon County, Montgomery County or Schuylkill County, PA, the highly skilled surgeons at Eye Consultants of Pennsylvania will provide you with the highest level of care.
Our staff includes a nationally-recognized team of specialized ophthalmologists, ophthalmic surgeons, and eye care professionals who have been trained by some of the most respected medical facilities in the world and have vast clinical experience in a wide variety of eye disease and surgical services.
About Bladeless LASIK Surgery

In conventional LASIK surgery, the surgeon uses a handheld surgical blade, known as a microkeratome, to cut a thin, hinged flap into the surface of the cornea. The flap is then folded over and the surgeon applies energy pulses from a computer-guided excimer laser to reshape the cornea and improve vision imperfections.
Our cornea surgeons, Adam J. Altman, MD, Jonathan D. Primack, MD, and Kevin J. Shah, MD, prefer bladeless LASIK, also known as "all laser LASIK." This state-of-the-art technique utilizes the cool beams of a femtosecond laser instead of a metal blade to cut the corneal flap, and is the most technologically advanced and safest way of performing LASIK. Bladeless LASIK is the only type of LASIK approved for U.S. Navy pilots and NASA astronauts.
Drs. Altman, Primack and Shah are highly selective in choosing patients for bladeless LASIK. Each performs an extensive screening process that includes personally examining and speaking with each candidate about their goals and expectations.
Meet Dr. Altman, Dr. Primack & Dr. Shah
LASIK surgery treats the delicate cornea of your eye. For that reason, we recommend choosing a surgeon who is both a board certified ophthalmologist and a fellowship-trained corneal specialist, an expert who performs various types of cornea surgery, treats corneal abrasions and infections, teaches other physicians about the cornea, and is capable of handling challenging cornea cases.
The LASIK and cornea surgeons at Eye Consultants of Pennsylvania, Adam J. Altman, MD, Jonathan D. Primack, MD, and Kevin J. Shah, MD are board certified, but they are also fellowship-trained, which means that they have undergone an advanced course of training in all aspects of corneal disease and care. A fellowship is considered the ultimate training for an ophthalmologist, and Drs. Altman, Primack and Shah are the only cornea fellowship-trained surgeons in the area.
Dr. Altman received his medical degree from the University of Massachusetts Medical School and was fellowship-trained at the prestigious Wills Eye Hospital. Dr. Primack graduated from Washington University School of Medicine and completed a Cornea, External Disease, and Refractive Surgery Fellowship at the Massachusetts Eye & Ear Infirmary at Harvard Medical School. Dr. Shah graduated from SUNY Upstate Medical University and received his fellowship training at the Cincinnati Eye Institute at the University of Cincinnati.
Just like with any other type of surgery, a good LASIK surgery outcome will depend primarily on the doctor's experience, the quality, technology and safety standards of the surgical center, and how carefully the doctor evaluates your eyes before surgery.
As you consider the LASIK eye surgeons near you, get in touch today with Eye Consultants of Pennsylvania to schedule a free LASIK evaluation. We are the leading ophthalmology practice in the region, with five convenient locations in Wyomissing, Pottsville, Pottstown, Lebanon and Blandon.
To schedule a free LASIK evaluation, call (610) 378-8500.
Physician information including education, training, practice location and more.
Call 800-762-7132 or make an appointment online.