LASIK Eye Surgery Campbelltown, PA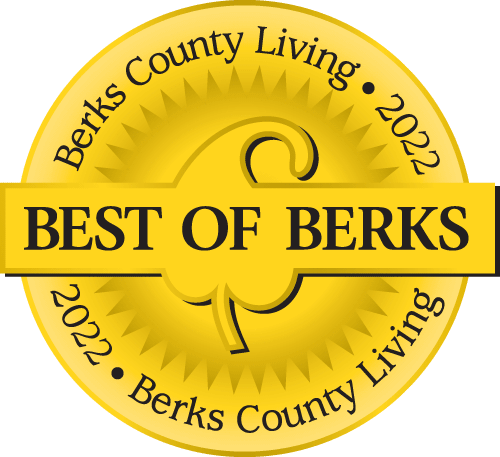 Voted Best of Berks—
eight years in a row!
At Eye Consultants of Pennsylvania, our patients tell us that LASIK eye surgery is a game changer for them. If you are in Campbelltown, PA, LASIK eye surgery is just a hop, skip and a jump away in our nearby Lebanon. It can be game-changing for you too!
Things to know about LASIK
Our surgeons prefer the bladeless custom LASIK technique, a state-of-the-art procedure that has been our preferred technique for many years. Most patients are candidates for this procedure. Our three surgeons are LASIK specialists who also have corneal fellowship training: Dr. Adam Altman, Dr. Jonathan Primack and Dr. Kevin Shah. You can read more about them on our website. Combined, they have nearly 50 years of surgical experience.
Our philosophy is that the best LASIK patient is an educated LASIK patient, so we provide lots of information to you, including this extensive set of videos about the procedure. Furthermore, we take as much time as needed during your initial consultation to make sure we answer all of your questions.
About the procedure
Your LASIK journey will start with a complete LASIK consultation including an eye evaluation. We will discuss your vision problems and your goals and expectations for the procedure. We will take all of this information to determine the LASIK option that best fits your needs.
LASIK surgery safely and accurately corrects refractive error, which is a flaw in the shape of the cornea. The cornea can be too flat or too pointed and cause images to improperly focus on the retina, blurring vision.
LASIK can treat all three major forms of refractive error: myopia (nearsightedness), hyperopia (farsightedness) and even astigmatism. In the last few years, technological advancements mean we can correct even higher levels of refractive error than ever before.
With LASIK, the surgeon uses an excimer laser to correct vision. The laser is used to precisely reshape the curvature of your cornea. A customized map of your cornea is created through detailed eye imaging, and the surgeon uses that guide to remove the exact amount of tissue. For example, each laser pulse removes a quarter of a micron of tissue. When you think about a micron being one millionth of a meter, you see how precise this surgery is.
Patients have great results at Eye Consultants of Pennsylvania. The large majority of our patients (95%) who have mild to moderate myopia achieve 20/20 vision or better.
If you are not a candidate for LASIK, we do another procedure called photorefractive keratectomy or PRK. Think of it as LASIK without the corneal flap, and it is recommended for patients who do not meet the corneal thickness or curvature requirements for LASIK. PRK is also used for patients who have a degree of refractive error not optimally corrected by LASIK.
Both PRK and LASIK are outpatient procedures, performed in the comfort of our Lebanon offices. The procedure is short, only about 10 minutes. Patients notice an immediate improvement in vision, followed by sharper vision in the next few days after surgery.
If you have been considering LASIK eye surgery in Campbelltown, PA come see us at Eye Consultants of Pennsylvania in our nearby Lebanon office. Give us a call to schedule your initial consultation today.
Physician information including education, training, practice location and more.
Call 800-762-7132 or make an appointment online.