LASIK Eye Surgery King of Prussia, PA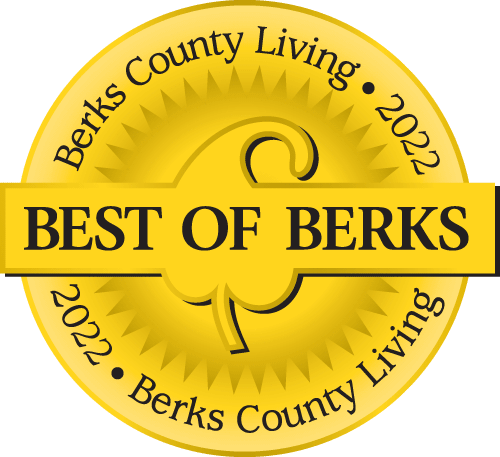 Voted Best of Berks—
eight years in a row!
Our trusted eye team at the Pottstown office of Eye Consultants of Pennsylvania would like to share some of the frequently asked questions we get from our King of Prussia PA patients regarding LASIK surgery.
What is LASIK surgery?
LASIK surgery is a procedure used to correct vision. Precision lasers are used to reshape the cornea to correct vision. We can correct nearsightedness, farsightedness and even astigmatism.
Is LASIK surgery right for me?
Most patients over age 18 who have good general health as well as good eye health are candidates for LASIK surgery. We also want our patients to have a stable unchanging eye prescription for at least 12 months before performing the procedure. Some health conditions may mean that you are not the best candidate for the surgery.
Is LASIK painful?
We use anesthetic drops to fully numb the eye before the surgery begins. While patients may feel a sensation of light pressure, they do not feel pain. We also give patients a mild sedative prior to the surgery to help you relax.
Patients rarely feel pain after surgery. Instead, the eyes may feel scratchy and irritated for a few hours afterwards. We recommend taking a short nap after arriving back home. With eye rest, the feeling dissipates and most patients are very comfortable. We do send you home with prescribed drops to help the eyes heal.
Is LASIK safe?
The procedure is extremely safe. You are in the hands of our experienced surgeons, and complications from the procedure are extremely rare.
Can both eyes be treated at the same time?
We do treat both eyes at the same time. Patients love this option because it is so much more convenient to come in and get both eyes treated on the same day.
Will I have perfect vision after LASIK?
We can't guarantee perfect vision, but we can guarantee drastically improved vision after the LASIK procedure. After waking from your surgery day nap, you will be surprised to find that your vision is so much clearer on the same day as surgery. As your eyes heal, vision becomes even more finely tuned. Patients typically heal very rapidly and experience excellent clear vision within 48 hours post-surgery with further vision improvement over the next several months. Most of our patients can ditch their glasses. Patients are so pleased with the outcome that they often refer family and friends to us.
How soon can I resume normal activities?
The day of your surgery, you need to take it easy. Return home after surgery and rest your eyes. We ask for minimal restrictions in the first few weeks after LASIK surgery, such as avoiding swimming, contact sports and strenuous exercise. Most of our LASIK patients are able to resume normal activities the day after surgery.
Come see us
We hope these answered questions have been helpful in your determination of whether LASIK is right for you. Patients in King of Prussia PA can have LASIK eye surgery in nearby Blandon. Make an appointment with us today at Eye Consultants of Pennsylvania.
Physician information including education, training, practice location and more.
Call 800-762-7132 or make an appointment online.