LASIK Eye Surgery Kutztown, PA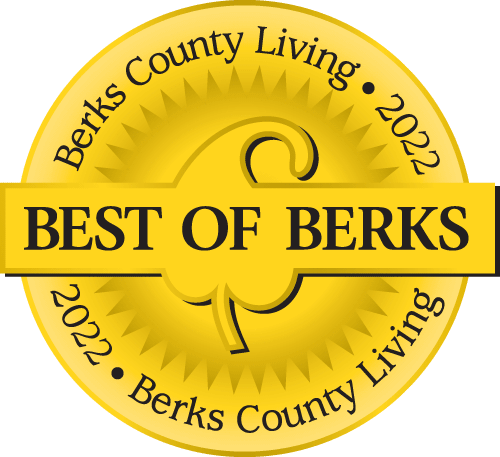 Voted Best of Berks—
eight years in a row!
LASIK eye surgery can correct several types of vision issues, including nearsightedness, farsightedness, and even astigmatism. Living in Kutztown PA means LASIK eye surgery is available from the renowned expert surgeons at Eye Consultants of Pennsylvania. We have an office in Blandon ready to serve Kutztown residents.
Bladeless custom LASIK
At Eye Consultants of Pennsylvania, we perform a technique called bladeless custom LASIK. This state-of-the-art procedure uses the most advanced technology in eye surgery today, and is widely regarded as the superior form of LASIK vision correction. Both NASA and the U.S. Air Force agree, trusting trust only bladeless LASIK for astronauts and pilots.
What can I expect from the procedure?
LASIK turns out to be much faster than most patients originally think it will be. Bladeless LASIK is one of the safest and most effective surgeries you can have. The procedure has three simple steps: (1) the surgeon first uses a femtosecond laser to create a corneal flap, (2) the flap is gently folded back to expose the cornea, and (3) the surgeon uses an excimer laser to reshape the cornea to correct vision.
Because each patient's eye is unique, we create a customized map of your corneal surface. The surgeon uses this map as a guide during the procedure to correct the unique steepness or flatness (or both) that your corneal surface may have. Once the surgeon has corrected the refractive error, the corneal flap is put back in place. It will heal on its own, without stitches.
Advantages of Bladeless LASIK
Bladeless LASIK is also called "all laser" LASIK, and offers several advantages. First, because a metal surgical blade is not used, surgical risk is lower with the laser usage. Second, the laser allows surgeons to create a much thinner corneal flap. In turn, this allows not only for more precise vision correction but also for a higher level of vision correction. We can operate on both eyes in the same procedure.
LASIK surgery successfully restores vision in the vast majority of patients, most of whom never have to have further vision correction. Note that the more nearsighted you are, the higher chance there will be for a refinement surgery several years down the road to fine-tune your vision. Many patients, however, never have to repeat the LASIK procedure, but eyes change after age 50, so you may need some fine tuning, or you may need to use reading glasses for up-close vision.
The best way to keep track of your vision changes is to visit us for regular eye appointments after your LASIK eye surgery. If Kutztown PA is not convenient for these checkups, we have several other Eye Consultants of Pennsylvania locations, including Montgomery, Lebanon and Schuylkill counties.
If you have been considering LASIK for some time, come into our Blandon location, which is most convenient to Kutztown, PA, and talk to the LASIK specialists at Eye Consultants of Pennsylvania. We are ready to answer all your questions, perform a comprehensive eye exam and determine whether you are a LASIK candidate.
Physician information including education, training, practice location and more.
Call 800-762-7132 or make an appointment online.