LASIK Eye Surgery Laureldale, PA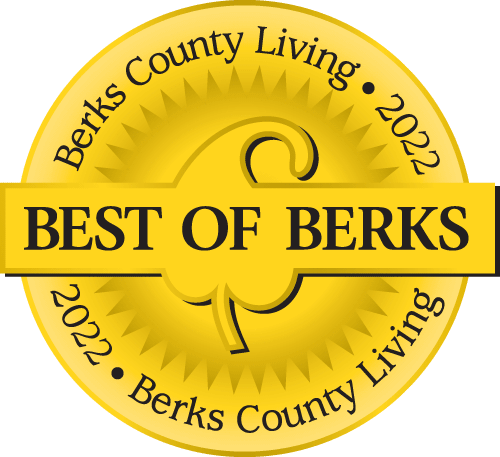 Voted Best of Berks—
eight years in a row!
Dreaming of 20/20 vision? You may be a candidate for LASIK eye surgery. If you are in Laureldale, PA, LASIK eye surgery is available and affordable At Eye Consultants of Pennsylvania in nearby Wyomissing.
Surgical options
Our preferred technique is bladeless LASIK and we use it for the majority of patients. This procedure involves two lasers, a femtosecond laser to create a corneal flap and an excimer laser to reshape the cornea.
The LASIK flap is created with a laser instead of a metal blade so the procedure reduces the risks inherent with use of a surgical blade. The surgeons can also create a much more precise corneal flap which in turn allows them to correct higher levels of refractive error.
Refractive error is defined as an irregularly shaped cornea, which can be too flat or too rounded, thus causing light to not properly focus on the retina. As a result, vision is affected and images are blurred either up close, at a distance or both. Our expert surgeons use LASIK to treat all three major forms of refractive error: myopia (nearsightedness), hyperopia (farsightedness) and even astigmatism. In the last few years, technological advancements mean we can correct even higher levels of refractive error than ever before.
People with thin corneas may not be a candidate for LASIK but are usually candidates for an alternate procedure known as PRK (Photorefractive Keratectomy). The procedure is generally the same, but instead of creating a flap in the cornea, the surgeon removes cells from the cornea surface. The excimer laser is then applied in the identical way as in LASIK to reshape the cornea. PRK is also performed on patients who have a degree of refractive error which cannot be ideally corrected with LASIK.
What can I expect from these procedures?
Both PRK and LASIK are outpatient procedures, performed in the comfort of our Wyomissing office. The procedure is short, only about 10 minutes. We will monitor you for about an hour then you can go home to rest for the remainder of the day.
Patients notice an immediate improvement in vision, followed by sharper vision in the next few days after surgery. We can restore 20/20 vision in the majority of our patients. Patients over age 40 may still need reading glasses even after LASIK or PRK correction if both eyes are corrected for distance vision. After age 40, a common condition called presbyopia can develop and is even more common in people over age 50. Presbyopia is a progressive loss of the eye's near focusing ability due to aging.
Our surgeons Drs. Altman, Primack, and Shah are the most experienced refractive surgeons in Berks County and are ready to discuss the procedure and your goals and expectations.
There are so many benefits to these procedures, so if you are in Laureldale, PA and have considered LASIK eye surgery, come see us at Eye Consultants of Pennsylvania in our nearby Wyomissing office. Give us a call to schedule your initial consultation today.
Physician information including education, training, practice location and more.
Call 800-762-7132 or make an appointment online.