Best LASIK Eye Surgery in Reading, PA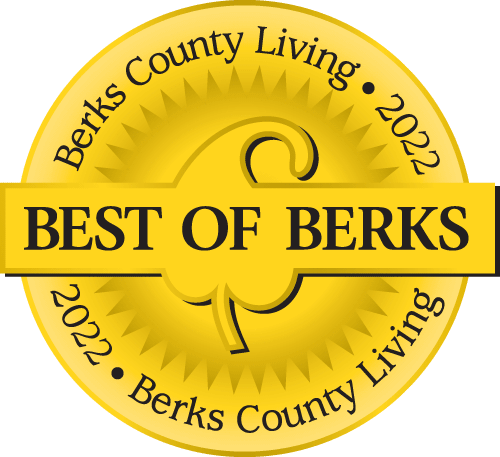 Voted Best of Berks—
eight years in a row!
If you live or work in Reading, PA, or the surrounding area, get started on the road to better vision with LASIK eye surgery performed by the best surgeons in Berks County.
At Eye Consultants of Pennsylvania, our LASIK surgery experts, Adam J. Altman, MD, Jonathan D. Primack, MD, and Kevin J. Shah, MD have a combined 40 years of LASIK experience and are the only cornea fellowship-trained LASIK specialists in the area. This means they have undergone an advanced course of training in all aspects of corneal disease and care, and will deliver the highest standard of care.
Drs. Altman, Primack and Shah prefer Bladeless Custom LASIK, also called "all-laser" LASIK, because they consider it to be the most technologically advanced and safest way of performing LASIK. This is the only type of LASIK approved for NASA astronauts and U.S. Air Force and U.S. Navy sailors and pilots.
Why Bladeless Custom LASIK?
Dramatic advances in laser technologies and surgery techniques have made it possible to reduce your dependency upon glasses and contact lenses, and Bladeless Custom LASIK is the most technologically advanced option.
In conventional LASIK surgery, the surgeon uses a handheld surgical blade, known as a microkeratome, to cut a thin, hinged flap into the surface of the cornea. The flap is then folded over and the surgeon applies energy pulses from a computer-guided excimer laser to reshape the cornea and improve vision imperfections.
In bladeless, or "all-laser" LASIK as it is sometimes called, the cool beams of a femtosecond laser are used to cut the corneal flap instead of a handheld blade. This technology was approved by the FDA for use in LASIK surgery in 2001.
The benefits of Bladeless Custom LASIK include:
96% of patients experience significantly improved vision
The procedure is painless
No stitches or bandages are necessary
Extremely precise
Vision improves almost immediately
Enhancements can be made after the initial procedure
Vision correction available to wider range of people
Very low risk of complications
About the Procedure
LASIK involves two basic steps: cutting a corneal flap and reshaping the cornea.
First, a corneal flap must be created to enable the surgeon to access the inner corneal tissue. This was traditionally done with a handheld instrument, called a microkeratome, which contains a metal blade. Thanks to the state-of-the-art Bladeless LASIK technique, the surgeon can use a femtosecond laser beam to create a very precise corneal flap.
The flap is then gently lifted and excimer laser beams are used to reshape the cornea based on the unique requirements of your eyes. This changes the way that light rays enter your eye and improves the ability of your eyes to focus.
The flap is then laid back into its normal position. The surgeon smooths it out to remove any bubbles or wrinkles under the flap, and it adheres like a decal, with no need for stitches. After surgery, any minor irritation you may feel can be alleviated with artificial tears and a good night's sleep.
Eye Consultants of Pennsylvania is experienced in the very best technologies for LASIK eye surgery. Whether you are in Reading, PA, or elsewhere in Berks County, we would be happy to answer any questions you may have about the procedure. Get in touch with us today to schedule a free LASIK evaluation.
Physician information including education, training, practice location and more.
Call 800-762-7132 or make an appointment online.