LASIK Eye Surgery Reading PA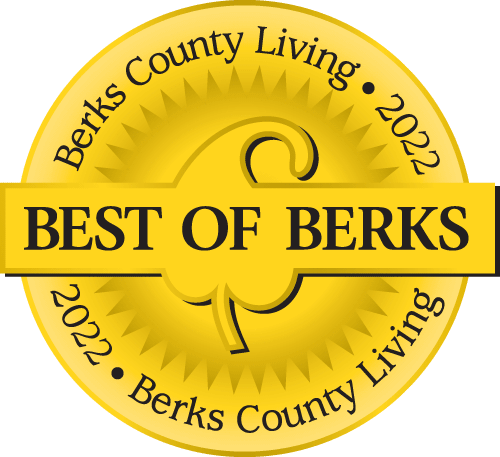 Voted Best of Berks—
eight years in a row!
If you live or work in Reading, PA and are considering LASIK eye surgery, the skilled cornea surgeons of Eye Consultants of Pennsylvania are available to answer all of your questions about the procedure and about the safe, accurate and customized bladeless vision correction we perform.
Adam J. Altman, MD, Jonathan D. Primack, MD, and Kevin J. Shah, MD are board certified and cornea fellowship-trained LASIK specialists. They have a lengthy track record of success and a combined 40+ years of experience in laser vision correction for patients in Berks County, Montgomery County, Schuylkill County, Lebanon County and beyond.
Fellowship training means that Drs. Altman, Primack and Shah have undergone an advanced course of training in all aspects of corneal disease and care. A fellowship is considered the ultimate training for an ophthalmologist. It means that you will receive the highest standard of care.
Dr. Altman was fellowship trained at the world-famous Wills Eye Hospital in Philadelphia. Dr. Primack was fellowship trained at the at the Massachusetts Eye & Ear Infirmary at Harvard Medical School. Dr. Shah was fellowship trained at the Cincinnati Eye Institute/University of Cincinnati.
Drs. Altman, Primack and Shah prefer bladeless LASIK, also called "all-laser" LASIK, because they consider it to be the most technologically advanced and safest way of performing LASIK surgery.
LASIK Eye Surgery Methods
All LASIK procedures are not the same. What is the difference between "blade" and "bladeless" LASIK? Does one have any advantages over the other?
Both forms of LASIK surgery use an excimer laser to reshape the corneal tissue; the difference is in what is used to cut the corneal flap. One method may be more advantageous than the other based on the individual patient's eyes.
In traditional LASIK, the surgeon uses a handheld surgical blade, known as a microkeratome, to cut a thin, hinged flap into the surface of the cornea. In bladeless LASIK, the cool beams of a femtosecond laser are used to cut this corneal flap. The flap is then folded over and the surgeon applies energy pulses from a computer-guided excimer laser to reshape the cornea and improve vision imperfections.
Bladeless LASIK may be beneficial for patients with:
Large refractive errors
Thin corneas
Very steep or very flat corneas
Dry eyes or contact lens intolerance
Anxiety about the metal blade
Some surgeons may recommend using the blade in complicated cases, such as in patients who have had previous refractive surgery and had a complication. Otherwise, LASIK is one of the safest medical procedures, whether it is performed with the microkeratome or with the laser. The most important factor is to choose a highly skilled cornea surgeon.
Drs. Primack, Altman and Shah are highly selective in choosing patients for bladeless LASIK. Each performs an extensive screening process that includes personally examining and speaking with each candidate about their goals and expectations.
Eye Consultants of Pennsylvania is experienced with all of the latest technologies for LASIK eye surgery. If you are looking for the best surgeons in Reading, PA, we would be happy to evaluate your candidacy and discuss the various treatment options with you. Get in touch with us today to schedule a free LASIK evaluation. Call (610) 378-8500.
Physician information including education, training, practice location and more.
Call 800-762-7132 or make an appointment online.