LASIK Eye Surgery Sinking Spring PA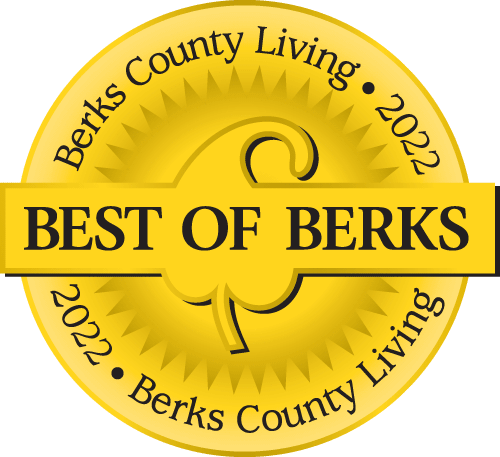 Voted Best of Berks—
eight years in a row!
Are you considering LASIK eye surgery in Sinking Spring, PA? Your first step should be to choose a qualified surgeon who can first evaluate whether laser vision correction is right for you.
Eyes are unique, like fingerprints, and the degree of your refractive error, the size of your pupils, and the thickness of your cornea must be assessed in order to decide which laser and surgical technique will be best for you. These factors are never the same for all patients. You may be a good candidate for LASIK, PRK (similar to LASIK but without the flap), or a different vision correction procedure.
At Eye Consultants of Pennsylvania, our cornea and refractive surgery experts, Adam J. Altman, MD, Jonathan D. Primack, MD, and Kevin J. Shah, MD have a combined 40 years of LASIK experience and are the only cornea fellowship-trained LASIK specialists in the area. This means they have undergone an advanced course of training in all aspects of corneal disease and care, and will deliver the highest standard of care.
Adam Altman, MD, received his medical degree from the University of Massachusetts Medical School with numerous honors, graduating in the top 10% of his class. He performed his ophthalmology residency at the world-renowned Duke University Medical Center in Durham, North Carolina, and was fellowship-trained in cornea and external eye diseases at the prestigious Wills Eye Hospital in Philadelphia. Dr. Altman was one of the cofounders of Wills Eye Hospital's Refractive Surgery Service.
Jonathan Primack, MD, graduated from the Washington University School of Medicine and served as an intern at Lenox Hill Hospital. He performed his ophthalmology residency at the Mount Sinai Medical Center in New York City. He was fellowship-trained in cornea, external disease, and refractive surgery at the Massachusetts Eye & Ear Infirmary at Harvard Medical School and, while there, received the prestigious Heed Ophthalmic Fellowship.
Kevin J. Shah, MD, joined Eye Consultants of Pennsylvania in 2016 after serving as faculty at the Cole Eye Institute at Cleveland Clinic. Dr. Shah, a board-certified cornea and cataract surgeon, brings a variety of modern surgical techniques to Eye Consultants of Pennsylvania. Dr. Shah earned his medical degree from SUNY Upstate Medical University in Syracuse, NY and completed his ophthalmology residency at Manhattan Eye and Ear Throat Hospital / New York University. He then completed a fellowship in Cornea and External Disease at the Cincinnati Eye Institute/University of Cincinnati under the mentorship of Edward J. Holland, MD, an internationally recognized leader in cornea transplantation and ocular surface reconstruction.
Drs. Altman, Primack and Shah prefer bladeless LASIK, also called "all-laser" LASIK, because they consider it to be the most technologically advanced and safest way of performing LASIK. Bladeless LASIK is also the only type of LASIK approved for NASA astronauts and U.S. Air Force and U.S. Navy sailors and pilots.
What is Bladeless LASIK?
LASIK surgery makes it possible to improve the ability of your eyes to focus and reduce your dependency upon glasses or contacts. This is done by sculpting or reshaping corneal tissue based on the unique requirements of your eyes through what is called a "corneal flap."
The traditional way to create a corneal flap is with a handheld instrument, called a microkeratome, which contains a metal blade. Thanks to the state-of-the-art bladeless LASIK technique, the surgeon can now use a femtosecond laser beam to create the flap.   Eye Consultants of Pennsylvania uses only the bladeless LASIK technology, because it is more precise and accurate.
Am I a Candidate for Bladeless LASIK Surgery?
Patients who are nearsighted, farsighted, or have astigmatism can most likely be treated with one of our laser techniques. The only way to know for sure if you are a good candidate is to schedule an evaluation with our cornea specialists. Dr. Altman, Dr. Primack and Dr. Shah are very conservative in selecting patients for laser vision correction and must first thoroughly evaluate your eyes by testing for corneal thickness, pupil size, refractive error, etc.
Is LASIK Surgery Painful?
Most patients are surprised to find that LASIK eye surgery is quick and painless. Your eyes are numbed with anesthetic eye drops, and you will not feel any discomfort. Some people feel a little pressure during the 15 to 30-minute surgery, but there is never any pain. After surgery, any minor irritation you may feel can be alleviated with artificial tears and a good night's sleep.
If you are in Sinking Spring, PA or the surrounding area, have questions about LASIK eye surgery, and wonder if it is right for you, schedule a free consultation at Eye Consultants of Pennsylvania and our cornea specialists will be happy to discuss them with you and help you make a decision. To schedule a free LASIK evaluation, call (610) 378-8500.
Physician information including education, training, practice location and more.
Call 800-762-7132 or make an appointment online.