LASIK For Astigmatism Reading, PA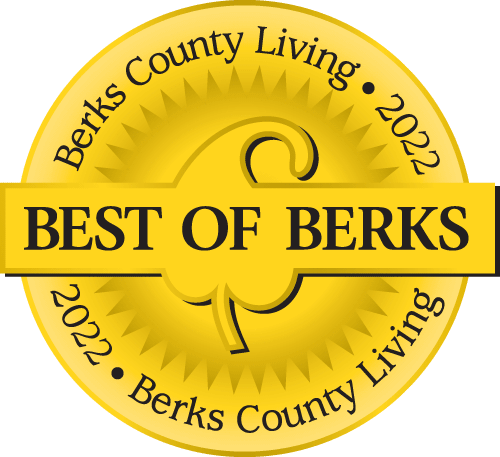 Voted Best of Berks—
eight years in a row!
Have you considered LASIK for astigmatism? Reading, PA residents are fortunate to have Eye Consultants of Pennsylvania in nearby Wyomissing on Granite Point Drive.
What is astigmatism?
Astigmatism is a common vision condition that affects millions of people worldwide. It is primarily caused by an irregularly shaped cornea, the clear, front surface of the eye. Sometimes, astigmatism is cause by a curvature of the lens, resulting in blurred or distorted vision. The cornea and lens are responsible for refracting (bending) light to focus on the retina at the back of the eye. In a perfectly-shaped eye, both the cornea and lens have a smooth curvature like a basketball. Eyes with astigmatism are shaped more like a football, and this means that light is refracted more in one direction than the other, leading to a point of focus that is not uniform. The vision becomes distorted.
Multiple factors cause astigmatism. It's often present at birth and can be hereditary. In some cases, it may develop after an eye injury, disease, or surgery. Irregularities in the lens or cornea development can also lead to astigmatism. While some degree of astigmatism is very common and doesn't require treatment, more severe cases can cause bothersome symptoms.
The primary symptoms of astigmatism are blurred or distorted vision at all distances. This can lead to squinting, eye discomfort, headaches, and even fatigue after prolonged periods of reading or other activities that require focused vision. Astigmatism commonly results in difficulty with night vision. Furthermore, astigmatism often occurs alongside other refractive errors like nearsightedness (myopia) and farsightedness (hyperopia).
Can I repair my astigmatism?
Corrective measures for astigmatism traditionally involve the use of eyeglasses or contact lenses to compensate for the uneven curvature of the cornea, allowing light to focus properly on the retina.
In recent years, refractive surgery has become an increasingly popular alternative to glasses and contacts. Laser-assisted in-situ keratomileusis (LASIK) is one of the most common procedures for correcting astigmatism. LASIK works by reshaping the cornea so it can more effectively focus light onto the retina. During LASIK, the surgeon uses a laser to remove a small amount of corneal tissue, thereby altering its shape and improving its refractive ability.
Before the procedure, eye drops are used to numb the eye, and a device is placed to prevent blinking. A thin flap is then created on the cornea's surface, which is lifted to allow the laser to reshape the underlying tissue. The flap is then repositioned and begins to heal immediately. The entire procedure typically takes less than 30 minutes per eye.
Significant improvement
Following the LASIK procedure, most patients experience significant improvements in vision, with many achieving 20/20 vision or better. If you've been thinking about LASIK for astigmatism in Reading, PA, come in for a thorough examination and consultation with one of our eye specialists. We will assess your suitability for the LASIK procedure. Give us a call today and come see us soon at Eye Consultants of Pennsylvania.
Physician information including education, training, practice location and more.
Call 800-762-7132 or make an appointment online.