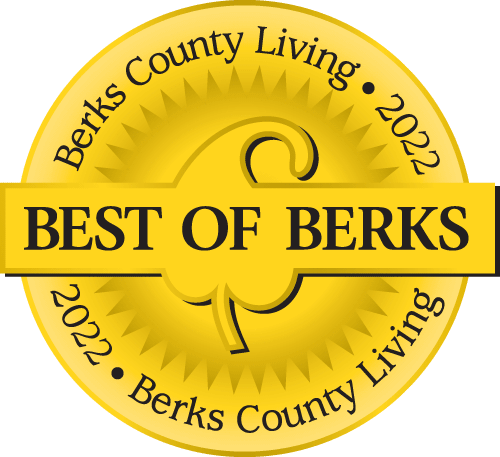 Voted Best of Berks—
eight years in a row!
Whether you are in Pottstown, PA, or elsewhere in Montgomery County or the surrounding area, the LASIK specialists at Eye Consultants of Pennsylvania have the skills and experience to deliver excellent outcomes from your LASIK eye surgery.
At Eye Consultants of Pennsylvania, our cornea specialists – Adam J. Altman, MD, Jonathan D. Primack, MD, and Kevin J. Shah, MD – are the only board certified and cornea fellowship-trained LASIK specialists in the area.
With 45-plus years of combined experience, they have established a long track record of success in laser vision correction for patients in Berks County, Lebanon County, Lancaster County, Montgomery County, and Schuylkill County.
Drs. Altman, Primack and Shah prefer Bladeless LASIK, also called "all-laser" LASIK, because they consider it to be the safest, most precise way of performing LASIK. Bladeless LASIK is also the only type of LASIK approved for NASA astronauts and U.S. Air Force and U.S. Navy sailors and pilots.
Why LASIK?
Dramatic advances in laser technologies and surgery techniques have made it possible to reduce your dependency upon glasses or contacts, and LASIK is the most technologically advanced option. The benefits include:
96% of patients experience significantly improved vision
Vision improves almost immediately
The procedure is painless
No bandages or stitches are necessary
Enhancements can be made after the initial procedure
Less dependence on glasses or contact lenses after surgery
Risk of complications is very low
What is Bladeless LASIK?
LASIK surgery makes it possible to improve the ability of your eyes to focus and reduce your dependency upon glasses or contacts. This is done by sculpting or reshaping corneal tissue based on the unique requirements of your eyes through what is called a "corneal flap."
The traditional way to create a corneal flap is with a handheld instrument, called a microkeratome, which contains a metal blade. Thanks to the state-of-the-art bladeless LASIK technique, the surgeon can now use a femtosecond laser beam to create the flap.
Are You a Candidate for LASIK Surgery?
If you are nearsighted, farsighted, or have astigmatism, are at least 18 years old, have not had previous eye surgery, and have never been diagnosed with an eye disease (such as cataracts or glaucoma), you may be a good candidate for LASIK surgery.
The only way to know for sure is to schedule an evaluation with our cornea specialists. Dr. Altman, Dr. Primack and Dr. Shah are very conservative in selecting patients for laser vision correction and must first thoroughly evaluate your eyes by testing for corneal thickness, pupil size, refractive error, etc.
Just like with any other type of surgery, a good LASIK surgery outcome will depend primarily on the doctor's experience, the quality, technology and safety standards of the surgical center, and how carefully the doctor evaluates your eyes before surgery.
When it comes to your eyesight, trust the experts. If you are in Pottstown, PA and have questions about LASIK eye surgery, schedule a free consultation at Eye Consultants of Pennsylvania and our cornea specialists will be happy to discuss them in-depth with you.
Physician information including education, training, practice location and more.
Call 800-762-7132 or make an appointment online.