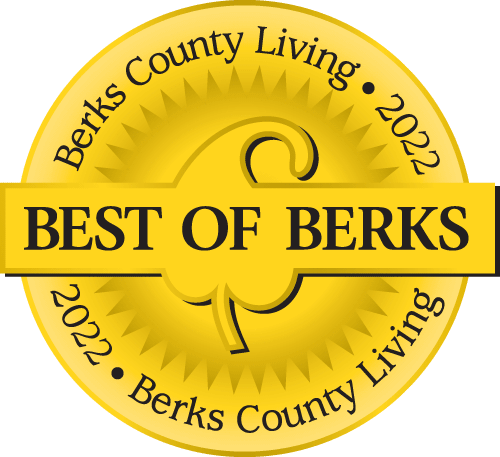 Voted Best of Berks—
eight years in a row!
Eye Consultants of Pennsylvania is experienced with all of the latest technologies for LASIK eye surgery. Schedule a free consultation with us in Reading, PA to discuss the various treatment options.
Our board certified cornea surgery experts, Adam J. Altman, MD, Jonathan D. Primack, MD, and Kevin J. Shah, MD, have a combined 45+ years of LASIK experience and are the only cornea fellowship-trained LASIK specialists in Berks County.
Fellowship training means that Drs. Altman, Primack and Shah have undergone an advanced course of training in all aspects of corneal disease and care. A fellowship is considered the ultimate training for an ophthalmologist. It means that your doctor is able to provide the highest standard of care.
Drs. Altman, Primack and Shah's preferred technique for laser vision correction is the bladeless, or "all-laser," LASIK procedure, which modifies the curvature of your cornea with cool laser beams instead of a surgical blade. This technique provides an unprecedented level of safety, precision, and comfort.
What is "Bladeless" or "All Laser" Custom LASIK?
This state-of-the-art procedure is our preferred method of laser vision correction for the majority of patients. The technique involves two lasers: a femtosecond laser, which safely and painlessly creates a corneal flap by means of infrared laser energy instead of a metal blade, and an excimer laser, which reshapes the cornea to correct the refractive error (glasses / contact lenses prescription).
Bladeless LASIK offers several important advantages compared to the older LASIK technique that uses a metal blade:
It reduces the risks associated with passing a metal blade through the surface of the eye.
The precise flap is thinner and allows for greater corneal stability and higher levels of correction.
It allows both eyes to be treated in the same surgery session, one right after the other.
Drs. Primack, Altman and Shah are the most experienced refractive surgeons in Berks County to perform Bladeless Custom LASIK on-site in the safety and comfort of their on-site laser suite in their fully licensed Wyomissing surgery center.
Is LASIK Surgery Right for You?
If you are at least 18 years old, have not had previous eye surgery and have never been diagnosed with an eye disease (such as glaucoma or cataracts), you may be a good candidate for LASIK eye surgery, but the procedure is not for everyone.
While technology plays an important role, your surgeon's skills and experience and your suitability as a LASIK candidate will be the main contributing factors to your surgical outcome and to your overall satisfaction.
The most appropriate laser and surgical technique will depend on several elements, such as your degree of refractive error, the size of your pupils and the thickness of your cornea. These are factors your surgeon must evaluate and they are never the same for all patients.
Talk to the specialists at Eye Consultants of Pennsylvania in Reading, PA to discuss the treatment that best meets your goals and expectations. If LASIK eye surgery is not the best solution, there are other options that may help you regain clear vision.
Physician information including education, training, practice location and more.
Call 800-762-7132 or make an appointment online.