LASIK Specialists Newmanstown, PA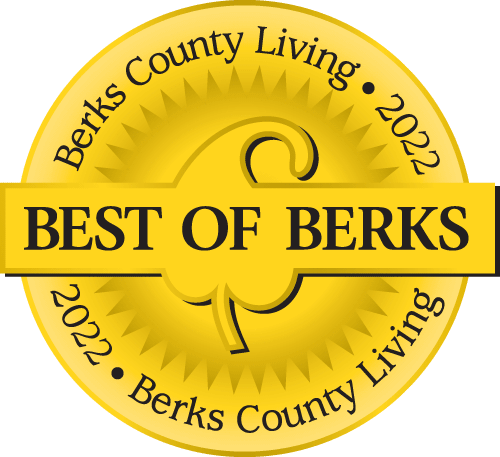 Voted Best of Berks—
eight years in a row!
Do you live or work in or near Newmanstown? Are you considering LASIK? If so, your first step should be a visit to the highly qualified LASIK specialists at Eye Consultants of Pennsylvania in Lebanon, PA.
Our board-certified, cornea and refractive surgery experts have a combined 50+ years of LASIK experience. In fact, our expert surgeons are the only doctors with corneal fellowship training in the area. The fellowship means that our physicians are trained in all the latest aspects of corneal disease. For you as a patient, this means you can be assured of the highest standard of care.
Why should I consider LASIK?
State-of-the-art bladeless LASIK technology is a dramatic improvement over older procedures that use a microkeratome blade. These new laser technologies and surgical techniques have made it possible to reduce your dependency upon glasses or contacts lenses. The vast majority (96%) of patients have significantly improved vision and, best of all, your vision improves almost immediately.
The procedure is easy and painless. It does not require bandages or stitches. You just have to rest your eyes after the surgery. Risk of complications is very low and, if you need enhancements after the initial procedure, the surgeons can easily do them.
What is "bladeless" LASIK?
Bladeless LASIK is also known as all-laser LASIK, and is the state-of-the-art procedure in vision correction. In fact, bladeless LASIK is our surgeons' preferred method of laser vision correction. The technique involves two lasers. First, a femtosecond laser safely and painlessly creates a corneal flap using an infrared laser. Next an excimer laser reshapes the cornea to correct the refractive error to improve your vision. We develop a customized map for each eye.
What are the advantages of bladeless LASIK?
Bladeless Custom LASIK offers several important advantages compared to the older LASIK techniques:
Reduced risks associated with using a metal blade on surface of the eye
Precise thinner corneal flap is created for better corneal stability
Achieves higher levels of correction
Allows both eyes to be treated in the same surgery
Will I have to repeat the surgery later?
LASIK surgery restores vision in nearly every patient, and you will likely never have to have vision correction surgery again. It is important to note, however, that LASIK will not correct any future age-related vision problems you may later encounter.
After LASIK, your eyes will continue to age. After age 50, you may find that you need reading glasses. In your 60s, you may develop cataracts, a normal sign of aging, and may eventually require surgery if the cataracts interfere with your vision. After LASIK, it is still important for you to get regular checkups with your eye doctor so that they can help diagnose and treat these age-related eye problems early.
Why should I consider Eye Consultants of Pennsylvania?
The Eye Consultants of Pennsylvania surgeons are the most experienced refractive surgeons in Lebanon County, and highly skilled at performing the bladeless LASIK procedure in our fully licensed surgery centers.
If you are interested in laser vision correction surgery in the Newmanstown area, talk to the LASIK specialists at Eye Consultants of Pennsylvania in Lebanon, PA. Come in for a free consultation, and we will discuss the best treatment options for your unique needs.
Physician information including education, training, practice location and more.
Call 800-762-7132 or make an appointment online.