LASIK Specialists Palmyra, PA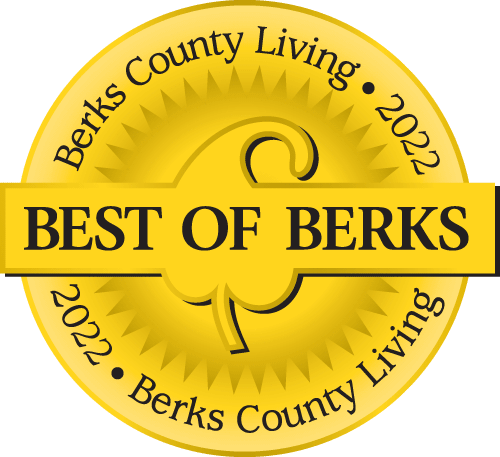 Voted Best of Berks—
eight years in a row!
Are you looking for the top LASIK specialists near Palmyra, PA? Consider the newest office of Eye Consultants of Pennsylvania at 770 Norman Drive in Lebanon, where our skilled surgeons have a long track record of success in laser vision correction.
The LASIK and cornea surgeons at Eye Consultants of Pennsylvania have undergone advanced courses of training under the guidance of experts in the field of corneal and refractive surgery. Adam J. Altman, MD, Jonathan D. Primack, MD, and Kevin J. Shah, MD, the LASIK specialist in our Lebanon office, have a combined 45+ years of experience and have successfully treated thousands of patients.
Why Choose Bladeless Custom LASIK?
Drs. Altman, Primack and Shah prefer Bladeless Custom LASIK, also called "all-laser" LASIK, for the majority of their patients at Eye Consultants of Pennsylvania.
This state-of-the-art technique, which modifies the curvature of the cornea using a laser instead of a surgical blade, is the most modern technology for safe, accurate and customized vision correction.
In Bladeless Custom LASIK, the cool beams of a femtosecond laser are used to cut a thin, hinged flap into the surface of the cornea. The flap is then folded over and the surgeon applies energy pulses from a computer-guided excimer laser to reshape the cornea and improve vision imperfections. The procedure allows for greater corneal stability and the treatment of higher levels of correction.
Most patients are surprised to find that LASIK eye surgery at Eye Consultants of Pennsylvania is quick and painless. But another advantage of LASIK is the quick visual recovery. Many patients wake up the morning after surgery and can see clearly without glasses or contacts.
Can Everyone Have LASIK Surgery?
Laser vision correction has provided excellent results for millions of people (over 21 million in the U.S. alone). If you are at least 18 years old, have not had previous eye surgery, and have never been diagnosed with an eye disease (such as cataracts or glaucoma), you may be a good candidate for LASIK eye surgery.
Eyes are unique like fingerprints, however, and the degree of your refractive error, the size of your pupils, and the thickness of your cornea must be assessed in order to decide which laser and surgical technique will be best for you. These factors are never the same for all patients.
Patients who are nearsighted, farsighted, or have astigmatism can most likely be treated with one of our laser techniques, such as PRK (similar to LASIK but without the flap) or a different vision correction procedure.
Whether you live or work in Palmyra, PA, or elsewhere in Lebanon County, the Eye Consultants of Pennsylvania LASIK specialists have the skills and experience to deliver good outcomes from your surgery. Get in touch with us today to schedule a free LASIK evaluation.
Physician information including education, training, practice location and more.
Call 800-762-7132 or make an appointment online.