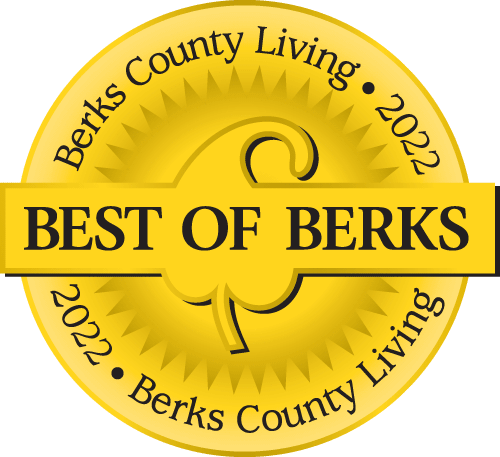 Voted Best of Berks—
eight years in a row!
Are there LASIK surgeons near me? This is a question you may have asked yourself many times. Our Eye Consultants of Pennsylvania team often hears from patients who consider LASIK off and on several times before making a decision. We understand. It is a big decision. Patients are generally concerned with two things: what the outcome will be and what the recovery is like.
Outcomes
The good news is that nearly 100 published studies done over the last decade confirm that LASIK is very safe and effective. Now that more people have had LASIK several years ago, researchers are now doing long-term studies to look at the stability of vision over time. In general, refractive corrections like LASIK are stable for five years, with researchers now studying stability over longer periods.
We use the bladeless LASIK procedure which is an all-laser technique. Patients have fewer complications and faster healing times.
Nearly all patients (98%) achieve 20/40 visual acuity with LASIK and more than 90% will achieve 20/20 vision. In these publications, outcomes are divided by diopter (D), meaning the amount of vision correction that is required. For smaller corrections of 0.5 or 1.0D, 20/20 correction can be achieved in over 90% of patients. With bladeless LASIK, our surgeons can correct high levels of nearsightedness, farsightedness and astigmatism to greatly reduce a patient's dependence on glasses or contact lenses.
After Surgery
The US FDA issues a report entitled Patient-Reported Outcomes with LASIK (PROWL). It is perhaps the most comprehensive study performed to date regarding the symptoms patients experience after LASIK. Most symptoms occur in the first few months after surgery as the eyes heal. Long-term, very few patients have persistent or bothersome symptoms.
Dry eye is by far the most frequent postoperative symptom reported by LASIK patients. In fact, about 20% to 40% of patients report dry eye symptoms like dryness, discomfort, itching and burning. According to PROWL, symptoms tend to peak at about three months and generally resolve at six months, lasting no longer than 12 months.
Your pre-surgery status can contribute. If you have dry eye before LASIK, your symptoms may be more pronounced after the surgery. As you heal, we can prescribe drops to help with these symptoms.
Some patients have visual symptoms such as seeing halos around lights or having increased sensitivity to glare. These types of symptoms can affect up to 20% of patients, according to the PROWL report. Patients who experience these symptoms often tell us they are more bothersome at night. All in all, fewer than 1% of patients tell us that these symptoms create a lot of difficulty in daily life.
The Aging Eye
Our surgeons take special care to discuss how your vision will change as you age. These changes happen independently of whether you have LASIK. Refractive surgery does not correct presbyopia, something that everyone develops over age 40. As you age, the eye lens becomes less flexible, creating vision changes for near vision. This explains why many over 40 individuals need reading glasses. People with myopia who have had LASIK to correct for distance vision generally need very little if any correction for near vision at first, but as they age, presbyopia sets in and the patient will likely need reading glasses.
Schedule an appointment
If you have been asking, "Are there LASIK surgeons near me?", come to Eye Consultants of Pennsylvania. We have several convenient locations to serve you, so schedule an appointment with us today. LASIK is safe and successful, and our team will take great care of you and your eyes.
Physician information including education, training, practice location and more.
Call 800-762-7132 or make an appointment online.