Best LASIK Surgeons in Pennsylvania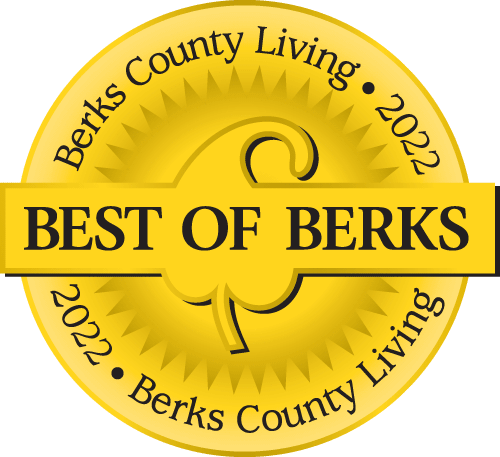 Voted Best of Berks—
eight years in a row!
Adam J. Altman, MD, Jonathan D. Primack, MD, and Kevin J. Shah, MD of Eye Consultants of Pennsylvania are among the very best LASIK surgeons in the state. These board certified, cornea fellowship-trained laser vision correction specialists have a combined 40 years of experience and have successfully treated thousands of patients.
Dramatic advances in laser technologies and surgery techniques have made it possible to reduce your dependency upon glasses or contacts, and LASIK is the most technologically advanced option.
Drs. Altman, Primack and Shah prefer the state-of-the-art Bladeless Custom LASIK technique, also called "all-laser" LASIK, and the PRK (Photorefractive Keratectomy) technique, which is recommended for individuals who are not optimal candidates for LASIK.
These procedures modify the curvature of your cornea using cool laser beams instead of a surgical blade. Both procedures utilize Custom Wavefront Technology, and produce identical visual results.
How to Choose the Best LASIK Surgeon
At Eye Consultants of Pennsylvania, we encourage individuals to learn as much as possible about the surgeon and the LASIK procedure in order to achieve the best vision. Here are some important factors to consider:
Is the surgeon "board certified"?
Board certification is part of the educational and credentialing process for physicians and surgeons who have successfully completed their medical residency and gained additional clinical experience. Achieving board certification means that the doctor has passed the intensive evaluation and examination process and demonstrated that he or she meets or exceeds certain standards of practice and competency.
The American Board of Ophthalmology certifies eye surgeons. It is important that any ophthalmologist you consider for LASIK surgery have this credential. Any doctor can claim to be board certified, however, so be sure to verify it.
Dr. Altman, Dr. Primack and Dr. Shah are board certified ophthalmologists and are qualified to provide you with the highest level of care.
Is the surgeon Fellowship-Trained?
The experience and qualifications of your surgeon can have a significant impact on the outcome of your LASIK surgery. Therefore, when choosing a LASIK surgeon, it is a good idea to look for a doctor who is fellowship-trained.
A fellowship-trained surgeon means that the surgeon has additional hands-on training that occurred after he/she finished the requirements of medical school. For example, many doctors finish with their residency and start working in the medical field, but fellowship-trained doctors continue their education after their residency is complete. Most of the time, the fellowship training lasts an additional year, and sometimes a research component is added with the operative and clinical training.
The additional fellowship training allows a doctor to get intensive, focused, subspecialty training, working with nationally recognized experts in his/her field, improving their skills in a certain area of surgery or practice. In the case of ophthalmology, fellowship-trained surgeons have specialized skills which can be very beneficial for surgical outcomes.
Dr. Altman, Dr. Primack and Dr. Shah are all Cornea Fellowship Trained ophthalmologists. Dr. Altman was fellowship trained at the world-famous Wills Eye Hospital in Philadelphia. Dr. Primack was fellowship trained at the Massachusetts Eye and Ear Infirmary at Harvard Medical School. Dr. Shah was fellowship trained at the Cincinnati Eye Institute at the University of Cincinnati.
Will you undergo bladeless LASIK or will the surgeon use a metal blade to create the corneal flap?
One of the most important steps for successful LASIK is the creation of a good corneal flap. In the past, the surgeon performed this step with a handheld metal blade called a microkeratome, an instrument designed specifically for LASIK surgery. Most individuals who undergo this traditional form of LASIK do well, but there are possible complications associated with the use of the blade.
The inclusion of femtosecond laser technology for flap creation was revolutionary and minimized the risks of flap complications and side effects. It allows for greater corneal stability and the treatment of higher levels of correction. Bladeless LASIK is the only type of LASIK approved for U.S. Navy pilots and NASA astronauts.
Dr. Altman, Dr. Primack and Dr. Shah use two types of lasers to perform Bladeless LASIK. One is an excimer laser which reshapes the cornea to correct the refractive error (glasses / contact lenses prescription). The other is the femtosecond laser which safely and painlessly creates the corneal flap without the use of a handheld metal blade. Our Ziemer Femtosecond Laser represents the most highly advanced LASIK flap technology available today.
Are you a good candidate for LASIK?
Every individual is not necessarily a good candidate for LASIK eye surgery. Every eye is unique, and corneas are just as distinctive as fingerprints or DNA. When you find a surgeon you like and decide to proceed, you will undergo a comprehensive evaluation of your eyes to test for corneal thickness, pupil size, refractive error, astigmatism, etc., and the surgeon will make a final determination about your candidacy for LASIK surgery.
To be sure your vision is in the hands of the best, most capable LASIK surgeon in Pennsylvania, look for board certified ophthalmologist and Fellowship trained cornea experts who specialize in the bladeless technique, such as those at Eye Consultants of Pennsylvania. Contact us today to schedule a free consultation.
To schedule a free LASIK evaluation, call (610) 378-8500.
Physician information including education, training, practice location and more.
Call 800-762-7132 or make an appointment online.