LASIK Surgery Blandon, PA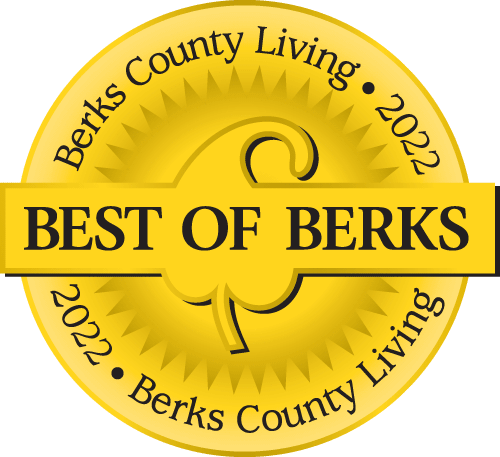 Voted Best of Berks—
eight years in a row!
What is one of the most frequent questions our surgeons get about LASIK? Patients want to know about outcomes. What can they expect from the surgery? How much will their vision improve? If you have these questions about LASIK surgery, our Blandon, PA surgeons can answer all your questions.
Patient Education
Patient education is important, and our offices strive to provide you with all the answers you need. Many patients worry about having surgery on a healthy eye. If something goes wrong, what then? We will discuss all the options with you, as well as the possible complications of LASIK. Very rarely are there adverse complications. The biggest side effect is prolonged dry eye after the surgery. As the eye heals fully, dry eye usually goes away, but we can give you eye drops in the interim to help with that situation. Sometimes, patients see starbursts at night while driving; this condition can go away as the eye fully heals.
It is important to do your homework. Ask us for information, too. If you are still nervous about LASIK, we will discuss nonsurgical options like glasses and contact lenses, with you.
LASIK Outcomes
We prefer to use the innovative bladeless LASIK procedure. Rather than using a standard surgical blade, this method uses two precision lasers, allowing us to make a much thinner corneal flap incision than previously possible. Ask about your surgeon's level of experience. Go ahead. We don't mind. We want you to ask. It is important to have an experienced surgeon who has performed many procedures.
Regarding LASIK outcomes, there are several standards to look for. One of the main metrics is how many patients achieve 20/20 vision or better. LASIK can correct nearsightedness, farsightedness and astigmatism. The best results are generally achieved in patients with low to moderate myopia.
About a decade ago, several government agencies, including the FDA and the National Eye Institute (NEI) launched a LASIK Quality of Life Collaboration Project to better understand LSAID surgical risks and to identify symptoms after surgery. They conducted two studies and found that nearly half of all patients had no post-surgery symptoms. About 40 percent of patients saw halos around lights when driving at night, and this lasted about three months or until the eyes fully healed from the LASIK incision. Nearly 100 percent of patients had 20/40 vision or better.
These research results are good news. Hopefully they provide you some facts about LASIK that you didn't know before. Your overall health before surgery and your eye measurements are factors in determining your outcomes, but so is surgeon experience and skill.
In Blandon, PA, LASIK surgery from the trusted Eye Consultants of Pennsylvania is definitely the way to go. Call us today to schedule your appointment and learn more about LASIK. We can fulfill all your eye care needs, and if you live in Linfield, PA, the best eye doctors are just a few minutes away in Pottstown's Eye Consultants of Pennsylvania office. Go online or call us to schedule today.
Physician information including education, training, practice location and more.
Call 800-762-7132 or make an appointment online.