LASIK Surgery Fredericksburg, PA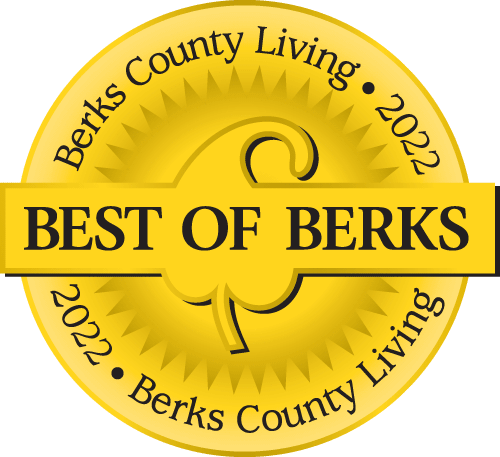 Voted Best of Berks—
eight years in a row!
Hey Fredericksburg, PA! LASIK surgery is nearby in Lebanon at Eye Consultants of Pennsylvania. Have you been thinking about LASIK surgery? If so, our excellent and experienced surgeons are ready for you to be our next new patient.
Vision Correction
LASIK is used to correct low to moderate myopia. If you have a high refractive error, we will perform several eye measurements during your initial comprehensive eye exam. We will use these measurements to see if you are a candidate for LASIK. If not, we will discuss other vision correction alternatives. LASIK can correct astigmatism, and we generally look for low to moderate astigmatism to correct.
Bladeless LASIK
Our surgeons prefer the innovative technique known as bladeless LASIK which uses two lasers rather than a traditional surgical blade (called a microkeratome). The first laser, a femtosecond laser, is used to create an incision in the cornea. The laser is superior to the blade in that it creates a much more uniform flap incision. Patients have fewer complications as a result. The second laser, and excimer laser, is used to gently pulse the surface of the eye, reshaping it to correct vision. Like any surgery, complications can occur, but having said that, serious complications after LASIK are quite rare. Side effects are usually mild, and include dry eye and seeing starburst patterns at night.
Am I A Candidate?
Most people are candidates for LASIK. You must have good overall eye health and be free of eye disease. As mentioned above, LASIK is used to treat a wide range of prescriptions, but your prescription must be in range. Your corneas must be thick enough to undergo LASIK. A cornea that is too thin increases your chances of having a vision-threatening condition called corneal ectasia. We perform corneal thickness measurements as part of the pre-surgical evaluation. Your pupils should not be too large, since post-surgery symptoms like glare and night starbursts are associated with pupil size. Finally, if you already have cataracts, LASIK is not recommended. Our surgeons generally recommend waiting until you need cataract surgery and then replacing the clouded cataract lens with a vision correction lens. People with certain previous eye injuries may not be good candidates.
We also like for patients to be 18 years of age or older, after your vision stabilizes. While there is no upper age limit for LASIK, after age 40, you will naturally have trouble seeing close up (a condition called presbyopia). Furthermore, we like for you to have a stable, unchanging vision prescription for one to two years prior to having LASIK. This will reduce your need for a touch-up surgery later on down the road.
People with diabetes are generally not good LASIK candidates, and certain autoimmune disorders make you at higher risk for healing complications. In particular, if you have rheumatoid arthritis or lupus, we need to look further at your candidacy for LASIK. Taking certain anti-inflammatory or immunosuppressant medications may mean that you should not do LASIK, so be sure to bring a complete list of all your medications to your initial consultation. Finally, if you are pregnant, we recommend waiting for LASIK until after your hormones stabilize.
LASIK Has Great Results
LASIK surgery for Fredericksburg, PA is just a quick drive away to Lebanon and Eye Consultants of Pennsylvania. If you have been considering LASIK, come in and see us for a yearly exam. Our experienced surgeons are ready to answer all your questions and schedule you for the amazing LASIK procedure. Go online or call us to schedule today.
Physician information including education, training, practice location and more.
Call 800-762-7132 or make an appointment online.