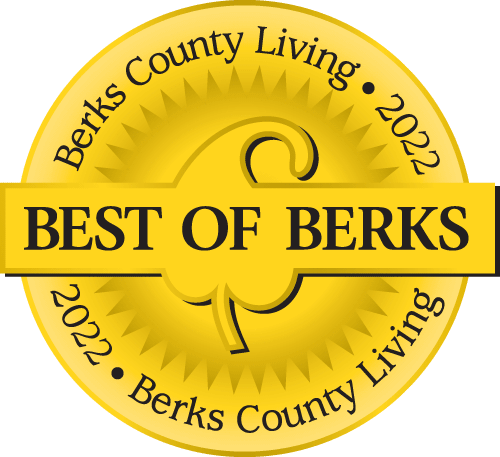 Voted Best of Berks—
eight years in a row!
What is low vision?
Low vision is a term that refers to vision that is not correctable with conventional glasses to a normal level.  Another term for low vision is visual impairment.
Coping with low vision can be overwhelming and emotionally difficult.  However, with time and effort you CAN adapt to low vision.  Many people who are visually impaired can learn to perform everyday functions and even enjoy hobbies again.
Our office offers low vision evaluations and rehabilitation through our Low Vision Specialist, Dawn Hornberger, O.D., M.S.  Dr. Hornberger has special training and expertise in working with people with visual impairment.  Dr. Hornberger can prescribe optical and non-optical devices and coordinate rehabilitation.  She provides assistance to patients in accessing resources through various agencies and programs for the visually impaired.
What is involved in a low vision evaluation?
A thorough eye and medical history is obtained and an eye health evaluation is conducted, including a review of any recent examination through the regular eye care provider.
The patient's visual needs and concerns are discussed.  Areas of interest include transportation, mobility, cooking, handling of mail, TV viewing, hobbies and whether a patient has assistance in the home.
The level of visual functioning is measured, and the patient is refracted to determine the best spectacle correction.  Unfortunately, glasses cannot completely correct the vision, but glasses are the first step in the process.
Then the best possible reading glass prescription is determined.  Various magnification tools are evaluated including hand magnifiers, telescopes and electronic magnification devices.  Sun glass lenses, tints and anti-glare coatings are also provided, as needed.
Non-optical devices are discussed including such items as lighting, large number telephones, talking watches, etc.
The patient is educated about his/her visual condition and options for treatment.  Assistance is provided to the patient in learning about other services that are available in the community.  Funding resources are discussed.
People with significant visual impairment should contact the
Pennsylvania State Bureau of Blindness and Visual Services
Office of Vocational Rehabilitation
Bureau of Blindness and Visual Services
300 G. Laird Street
Wilkes-Barre, PA 18702
866-227-4163
http://www.dli.pa.gov/Individuals/Disability-Services/bbvs/Pages/default.aspx
People with significant visual impairment should also contact the Vision Resource Center of Berks County for support and information.
Vision Resource Center of Berks County
2020 Hampden Blvd
Reading, PA 19604
610-375-8407
Veterans may be eligible for rehabilitative services through the Veteran's Administration (VA).  The VA visual rehabilitation services really are the finest in the country and possibly the world.
Support groups
You should not have to face low vision alone.  Here are some helpful websites of support organizations.
Vision Resource Center of Berks County http://vrcberks.org/
American Foundation for the Blind www.afb.org
Low vision online www.lowvisiononline.unimelb.edu.au
Lighthouse Guild Vision and Health http://www.lighthouseguild.org/
American Macular Degeneration Foundation http://macular.org/
Optical aids
Low vision glasses
The most important low-vision aid is a proper pair of glasses with an adequate prescription.
Low vision glasses with a stronger than usual bifocal are often the first reading aid prescribed.  These stronger bifocals are most helpful for those with moderate impairment.  Often the bifocals will supplement stronger aids such as a stand magnifier.
However, the stronger bifocals require the reading material to be held closer.  It can be difficult to adjust to holding the material closer than before.  Start with the reading material at your nose and move away slowly until in focus.
With stronger bifocals your field of view will be smaller. Keep your eyes still and move the reading material side to side instead of scanning with your eyes.
Hand magnifier
Hand magnifiers, often with a light, are available through our office.  Hand magnifiers are often used in on-the-go situations such as at restaurants or grocery stores.  Hand magnifiers are also useful around the house.
Hand magnifiers are often used improperly.  The distance between the magnifier and the page should always be constant!!  To keep distance from magnifier to page constant, start with the magnifier on the page and pull away until the object is in focus.  If you move the magnifier closer to your eye for a better look you must keep the distance between the magnifier and the object constant.
Also, hand magnifiers should be used with your distance glasses.
Stand magnifier
Stand magnifiers are good for prolonged reading.  The print does not have to be close to your face and there is a larger field of view.  While using a stand magnifier you should wear bifocals or reading glasses and keep the distance between eyes and magnifier constant (Opposite of the case while using a hand magnifier).
Dr. Hornberger can discuss the large range of available electronic and non-electronic low vision devices available.
Lighting
Lighting is the primary and most crucial non-optical device.  Within reason, bright light will not damage your eyes.  Reading, watching TV or "using your eyes" will absolutely not damage your eyes.
Patients with macular degeneration usually benefit the most from a 60 watt incandescent bulb.  Higher wattage produces more glare and shadow.  There should be a shade to focus the light. An insulated shade is best because the light is often brought close to the face.  The light should have a flexible arm to directly illuminate the object. Bright light will not damage your eyes.
People with visual loss due to diabetes often benefit more from indirect lighting with the light moved farther from the page.
A website for lights is www.lightspc.com, under personal lighting.
Ott-lite is a lighting fixture which uses a lower watt bulb.  There is less shadow and glare and the light provides a good color match.  Their website is www.ottlite.com.
Large print
Large print magazines are available from Reader's Digest, www.rd.com.
The New York Times also publishes a large print version.
Harvard Ranch publishing sells bibles and devotional works in large print, www.harvardranch.com
The National Library for the blind will mail large print and recorded books to eligible people.  Our office can provide the application.  Their website is www.loc.gov/nls
There are sites on the web that provide free online audiobook downloads, usually of older, classic literature.
Non-optical devices
Free catalogs of non-optical devices are available from Independent living, Maxiaids and Lssproducts.  These companies are all on the web.
Lighthouse Guild Vision and Health http://www.lighthouseguild.org/
A great reference about non-optical devices is available at the site http://extension.missouri.edu/publications/DisplayPub.aspx?P=GG12
Non-optical devices are available for medical uses, activities of daily living and hobbies.
Syringes with magnifiers or large print are available at http://www.largeprintreviews.com/product_health_glucose.html.
Talking pill-boxes or those with Braille or large print are also available.
Home – There is an incredible variety of devices which can be used in the home.  Examples include:
Talking clocks and watches
Talking calculators
Telephones with large print buttons
Bump-ons to label dials and knobs
Flame tamers for stove
Talking microwaves
Liquid level indicators
Knives with guides
Wallet guides to separate bills
If you have any questions or concerns please contact our office at 610-378-1344.
Physician information including education, training, practice location and more.
Call 800-762-7132 or make an appointment online.