Ophthalmologists in Lebanon, PA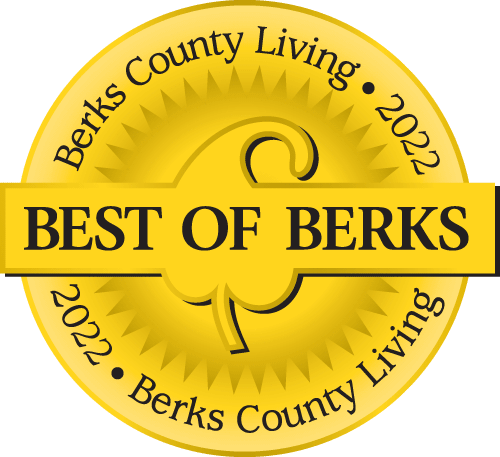 Voted Best of Berks—
eight years in a row!
If you are looking for exceptional ophthalmologists in the Lebanon, PA area, Eye Consultants of Pennsylvania can provide you with the highest quality eye care in the region. We offer five convenient locations in Blandon, Pottstown, Pottsville, Lebanon and Wyomissing.
Why Choose Us?
One factor that sets Eye Consultants of Pennsylvania apart from other practices is that all of our doctors are board certified in their fields, and our surgeons are all fellowship-trained, an indication that we are committed to providing you with the best possible care and treatment. We have provided the community with exceptional eye care for nearly 50 years.
Our highly respected ophthalmologists have been trained by some of the finest medical institutions in the world, including the Bascom Palmer Eye Institute at the University of Miami, Wills Eye Hospital in Philadelphia, the Wilmer Eye Institute at Johns Hopkins in Baltimore, the Massachusetts Eye & Ear Infirmary at Harvard Medical School in Boston, Duke University Medical Center in Durham, and the Scheie Eye Institute in Philadelphia.
Our surgeons perform thousands of procedures each year and utilize the most advanced specialized instruments and equipment to analyze and optimize the outcome of every procedure.
About Our Services
At Eye Consultants of Pennsylvania, we offer a wide range of eye care services within one practice, a few of which are described in more detail below:
LASIK Laser Vision Correction
No-Stitch Cataract Surgery
Advanced Lens Implant Technology
Pediatric Eye Care
Diabetic Eye Care
Retina Care
Medical Eye Care for Glaucoma, Macular Degeneration and Corneal Diseases
Comprehensive Eye Exams
Eye Emergencies
Full-Service Optical: Eyeglasses, Sunglasses and Contact Lenses
LASIK Laser Vision Correction
Our cornea and refractive surgery experts are the most experienced board certified and cornea fellowship-trained LASIK specialists in the area. Their preferred technique for laser vision correction is the state-of-the-art bladeless, or "all-laser," LASIK procedure, which modifies the curvature of the cornea with cool laser beams instead of a surgical blade. This technique offers an unprecedented level of safety, precision, and comfort.
No-Stitch Cataract Surgery
No medication, laser treatment or exercise routine can make a cataract go away. Cataract surgery is the only way to remove a cataract and restore clear vision. And the latest artificial lens implant technologies make it possible for many patients to see well up-close and at a distance without the need for glasses.
Our cataract specialists perform most surgeries using ultrasound (high frequency sound waves) to soften the cloudy lens, remove it through a tiny incision, and replace it with an artificial intraocular lens (IOL). In most cases, no stitches are required because the self-sealing incision is so small. And, because there are no uncomfortable stitches to care for, there are fewer post-surgery restrictions on your activities.
Eye Emergencies
The doctors at Eye Consultants of Pennsylvania are highly trained in eye emergencies, from corneal injuries such as metallic foreign bodies, corneal ulcers and abrasions, to eye infections, and dry eye. We also diagnose and treat urgent retinal problems that can manifest as flashes of light or floaters in your vision.
When you are looking for ophthalmologists with an exceptional level of knowledge and experience in the Lebanon, PA area, consider the specialists at Eye Consultants of Pennsylvania. We continually strive to offer our patients the advantages of the most advanced treatment and technology available.
Physician information including education, training, practice location and more.
Call 800-762-7132 or make an appointment online.