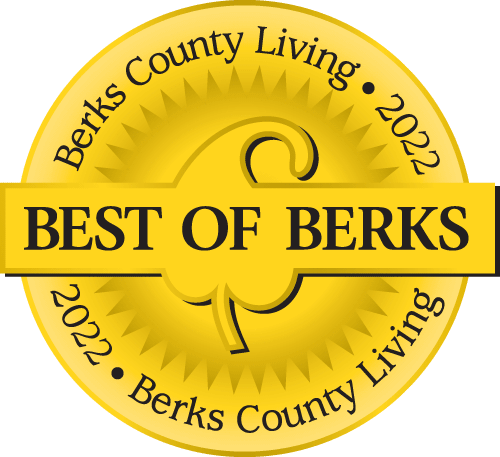 Voted Best of Berks—
eight years in a row!
The vast majority of patients who undergo LASIK surgery have little, if any, discomfort or downtime following the procedure. Recovery time varies from one patient to another. However, most patients enjoy improved vision within one to three days, although fluctuations in vision can be expected for up to six months.
LASIK is the abbreviation for "Laser-Assisted In Situ Keratomileusis." It is an FDA-approved outpatient surgery that is quick (under 15 minutes in most cases) and virtually painless for most patients. LASIK is one of a number of options that can reduce or eliminate your dependence on glasses or contacts.
The cornea surgery experts at Eye Consultants of Pennsylvania, Adam J. Altman, MD, Jonathan D. Primack, MD, and Kevin J. Shah, MD, have a combined 40+ years of LASIK experience and are the only board certified and cornea fellowship-trained LASIK specialists in the region. They will evaluate your eyes, discuss your goals and expectations, and guide you toward better vision.
Drs. Altman, Primack and Shah perform all procedures in the safety and comfort of their on-site laser suite in their fully licensed Wyomissing surgery center. Their preferred technique for laser vision correction is the state-of-the-art bladeless, or "all-laser," LASIK procedure, which modifies the curvature of your cornea with cool laser beams instead of a surgical blade.
LASIK Eye Surgery Recovery
The cutting-edge technology of the bladeless LASIK procedure results in better safety and faster visual recovery time than older LASIK surgeries that use a hand-held microkeratome, a bladed surgical instrument, to cut a flap in the cornea. In fact, this procedure is the only type of LASIK surgery that is approved for US Navy pilots and NASA astronauts.
Vision typically improves within a few days of LASIK surgery; however, you may feel a mild burning or itching sensation immediately following the procedure, and your eyes may tear or water for several hours.
Some patients also experience hazy or blurry vision, sensitivity to light, or bloodshot eyes. These symptoms usually improve within a few days. If you experience any discomfort at all, your surgeon may suggest a mild pain reliever.
There will be a stabilization period following surgery, and full recovery may take three to six months. During this time, your vision may fluctuate, and you may experience glare, haloes, or poor night vision.
Restrictions After LASIK Surgery
Many patients return to work within a day or two of the procedure. Your doctor will give you explicit instructions for after-surgery care and some lubricating eye drops, but here are some general restrictions that will help protect your eyes while they heal.
Do not rub your eyes for three weeks after surgery
Avoid getting water or soap in your eyes for three weeks.
Wait a few days to a week before you resume driving, based on your doctor's advice.
Do not wear eye makeup for the first week.
Wear sunglasses outdoors to ease any sensitivity to light.
Do not wear a contact lens in the operated eye, even if your vision is blurry.
Avoid dusty activities, such as gardening and yard work, for three weeks to one month.
Avoid swimming, hot tubs and whirlpools for three weeks.
Wait several weeks before resuming exercise regimens or non-contact sports.
Avoid strenuous contact sports, such as soccer, football, karate, etc., for at least one month.
Every eye heals differently. There is no standardized recovery time for every LASIK patient. Follow your doctor's postoperative instructions for proper healing, and get in touch with Eye Consultants of Pennsylvania at (800) 762-7132 if you have questions or concerns.
To schedule a free LASIK evaluation, call (610) 378-8500.
Physician information including education, training, practice location and more.
Call 800-762-7132 or make an appointment online.