Cataract surgery is less invasive than it has ever been, and the procedure can often help you regain much of what you've lost in terms of vision and quality of life. Patients today can expect excellent results from exciting new techniques, and there is no longer a need for painful anesthetic injections or uncomfortable stitches.
This very common eye problem is most often associated with the aging process. But age is not the only cause. Trauma or injury to the eye, certain medications, such as corticosteroids, unprotected exposure to UV and other forms of radiation, diabetes and other medical conditions may also cause cataracts. Sometimes, children are even born with them.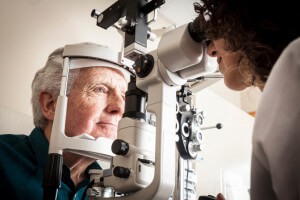 Cataracts affect the normally transparent lens of the eye, which is the part of the eye that focuses light on the retina, allowing us to see things sharply. It also focuses at different distances, an ability that decreases as we age.
The normal aging process causes proteins in the lens to break down, and it gradually becomes cloudy. As a cataract develops, the lens delivers fuzzy images to the retina, causing blurry vision. Cataracts are not caused by overusing your eyes, and they do not spread from one eye to the other.
At first, you may not even know you have a cataract. They're not usually painful, but you may experience more sensitivity to light, halos and glare around lights (especially oncoming headlights), and have a hard time driving at night. You may also notice that colors are not as vibrant as they once were or that you have more trouble reading, watching TV, or doing work on the computer.
The only way to "cure" a cataract is with surgery. Vision can be restored in most people, and the best thing about it is that the original cataract can never come back.
Cataract Surgery
Cataract surgery is normally done on an outpatient basis in our state-of-the-art surgery center. The surgeon removes the cloudy natural lens of your eye and replaces it with a clear artificial lens called an intraocular lens implant (IOL).
The surgery is performed under a special microscope and involves making a tiny incision. An ultrasonic needle is then used to soften the old, cloudy lens material to make it easier to remove.
Once all of the cataract material has been removed, an artificial lens is inserted through the incision and positioned inside the eye, where it will stay.  You will never feel the intraocular lens or even know it's there.
Cataract surgery is virtually painless and recovery is quick.  The incision will heal itself, and stitches are rarely required. The entire surgery takes about 15 minutes, although there will be some pre-surgery preparations and a short recovery period afterward, so you can expect to be in the surgery center for 1 ½ or 2 hours.
It is normal to have some sensitivity or itchiness for the first day or two after surgery, but severe pain is very rare. You should also be able to resume reading and watching TV by the next day and return to work within two days to one week.
Choose Eye Consultants of Pennsylvania
We are the leading ophthalmology and ophthalmic surgery practice in the region, with five convenient locations in Wyomissing, Pottsville, Pottstown, Lebanon and Blandon.
Our team of board certified cataract specialists is committed to maintaining the highest standards in disease diagnosis, treatment advances and surgical techniques to help people regain the gift of sight.
Our cataract surgeons utilize advanced specialized instruments and equipment to analyze and optimize the outcome of every procedure.
Our cataract specialists have been trained by some of the most prestigious medical facilities in the world, such as Duke University Medical Center in Durham, the Massachusetts Eye & Ear Infirmary at Harvard Medical School in Boston, the Scheie Eye Institute in Philadelphia, the Wilmer Eye Institute at Johns Hopkins in Baltimore, and Wills Eye Hospital in Philadelphia.
Our highly skilled cataract surgeons include:
Adam Altman, MD, who received his medical degree from the University of Massachusetts Medical School and was fellowship-trained at the prestigious Wills Eye Hospital.
Katherine Hu, MD, who graduated from the University of Virginia School of Medicine and performed her ophthalmology residency at the prestigious Wilmer Eye Institute at Johns Hopkins.
Lawrence E. Kenney, MD, who attended Temple University School of Medicine and completed his ophthalmology residency at Greater Baltimore Medical Center.
Michael A. Malstrom, MD, who attended Temple University School of Medicine and completed his residency at Wills Eye Hospital.
Mehul H. Nagarsheth, MD, who received his medical degree from Drexel University College of Medicine and completed his glaucoma fellowship at Tufts New England Eye Center and Ophthalmic Consultants of Boston.
Abhishek Nemani, MD, who received his medical degree from the State University of New York Upstate Medical University in Syracuse and was fellowship-trained in at the prestigious Scheie Eye Institute at the University of Pennsylvania.
Jonathan Primack, MD, who received his medical degree from Washington University School of Medicine and completed a Cornea, External Disease, and Refractive Surgery Fellowship at the Massachusetts Eye & Ear Infirmary at Harvard Medical School.
Kevin J. Shah, MD, who received his medical degree from SUNY Upstate Medical University and received his fellowship training at the Cincinnati Eye Institute at the University of Cincinnati.
When you make an appointment with one of our cataract specialists, they will discuss the surgery procedure and your options for replacement lenses based on your general health and lifestyle. If you think you may have a cataract, get in touch with Eye Consultants of Pennsylvania to schedule an evaluation.
For an appointment, call toll-free 1-800-762-7132.