Top Rated LASIK Surgeons Pottsville, PA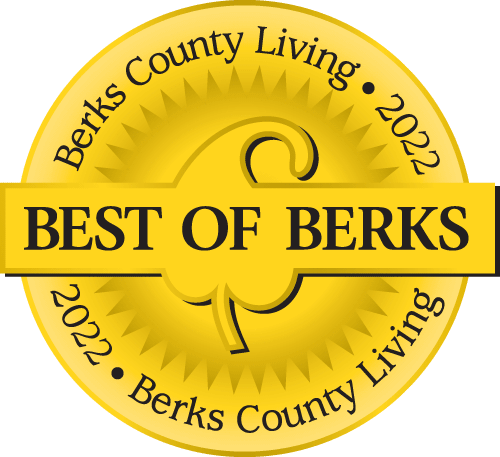 Voted Best of Berks—
eight years in a row!
If you have decided to have the LASIK vision correction procedure, you are joining many previous patients who have had great success with the surgery. In fact, many of them call LASIK a game-changer. Your first appointment will be a free LASIK evaluation with one of our Pottsville, PA top rated LASIK surgeons at Eye Consultants of Pennsylvania.
The Exam
In your first visit, we will perform a comprehensive eye exam that is very similar to the routine eye exams you have had every year. We will measure your uncorrected and corrected vision (visual acuity) and take eye measurements in both light and dark conditions. We will look for any corneal irregularities that may be problematic for LASIK surgery, and we will make a map of your cornea to use during the surgery. With LASIK, we can correct both eyes at one time, so we will make maps of both corneas if that is the case.
This eye exam will also include a test for dry eye. People who already have dry eye before LASIK surgery will likely have a higher degree of dry eye after the surgery. We like to measure the baseline degree of dry eye so that we can provide eye drops to remedy the issue after LASIK.
Taking Your Medical History
It is very important for our team to have a comprehensive medical history for you, so you should bring a list of all non-prescription and prescription mediations with you, as well as a complete medical history, including any eye surgeries or injuries you have had and your family history of eye problems. Conditions like diabetes or certain autoimmune disorders may preclude you from being a candidate for LASIK. If you are a high-risk patient or not a candidate for LASIK, we will have a thorough discussion as to the reasoning and will recommend alternatives for you for vision correction. If you are a LASIK candidate, which most patients are, we will also thoroughly discuss your expectations for the surgery.
Targeted Custom LASIK
The eye examination and medical history are important factors in creating your targeted customized LASIK plan. The surgeon uses this information to create a surgical plan and customized corneal map prior to the surgery. This plan is your unique blueprint for targeted custom LASIK.
The decision to pursue LASIK surgery is a big step. Congratulations! You've made a great decision and a great choice in coming to Eye Consultants of Pennsylvania, we look forward to seeing you for this free LASIK evaluation. Reading, PA residents can visit our nearby Blandon office, and we will answer all your questions during this initial meeting.
You've made a great choice in deciding on LASIK, one of the safest and most effective procedures you can have. Your next step is to come see us for your free LASIK evaluation. Pottsville, PA residents can come to our Eye Consultants of Pennsylvania office conveniently located at Schuylkill Medical Plaza. Call us at 570-621-5690 or go online to schedule your initial appointment with one of our Pottsville, PA top rated LASIK surgeons today.
Physician information including education, training, practice location and more.
Call 800-762-7132 or make an appointment online.