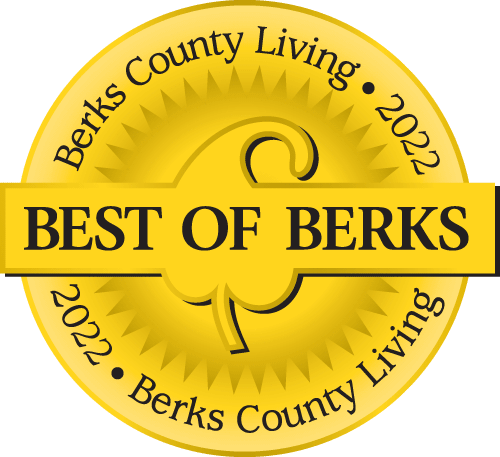 Voted Best of Berks—
eight years in a row!
We appreciate your selection of our practice to serve your ocular needs, and we will provide you with the best care possible. Your choice of an appropriate doctor to provide your eye care is assured.
We ask you to spend some time reviewing this page. We would like to give you as much information as possible about our practice and anticipate your questions regarding your health care. The more you know about our policies and methods of practice, the more we can be of service to you.
APPOINTMENTS: Routine appointments may be scheduled by calling the office during regular office hours. Please call in advance to make an appointment. We have availability and convenient hours in all office locations. Urgent and emergency problems will be given a prompt appointment.
When calling our office, please tell the receptionist the reason or need for your visit. This is very important in order to reserve sufficient time for your visit with us.
All patients coming for a complete examination should expect to be in our office for at least two hours. Please plan accordingly. Most patients will receive dilating drops to allow the doctor to examine the interior of the eye. These drops require additional time to take effect. You should probably arrange for someone to drive you home because your eye/eyes may be dilated.
Bring your most recent pair of glasses when you report for your examination, even if they are damaged.
An effort is made to see you at the time your appointment, but patients with special or urgent problems must take precedence. We request your understanding.
OFFICE HOURS: Daily – Mon., Tue., Thur. 9:00 A.M. to 9:00 P.M.; Wednesday & Friday 9:00 A.M. to 5:00 P.M.; Saturday limited morning hours; Sunday no Office hours.
TELEPHONE: Our telephone are answered by our receptionists during normal business hours. After normal hours, calls are answered by our answering service. In an emergency, the answering service will always know where to locate the physician on call from our group.
If your injury is so acute that you cannot wait to telephone, go directly to the Tower Health Emergency Room. There you will receive initial treatment and our doctors will be contacted.
OFFICE VISIT: At the time of your initial visit to our office, you should arrive shortly before your appointment time, unless you have been given instructions to arrive earlier. Please check in with our receptionist upon your arrival.
The receptionist will ask you for the New Patient Information sheet you received in the mail. If you did not receive it, you will be given one to complete. These questions are a necessary part of your examination. At a glance, the physician will obtain essential information about you. Your address and telephone number are needed in case your physician needs to contact you. Information concerning your age, occupation, etc., is also important because it has a bearing upon your health and physical status. Please be assured that all information is confidential and no part of your record will be disclosed without your written consent.
When your appointment time arrives, a medical assistant will guide you to an examining room. You will asked about your medical history. You will need a list of all the medication you are taking at present. If you are using eye medicines, please bring the bottles with you. This information is important to the doctor who examines you.
PRESCRIPTIONS: We request that you try to foresee the need for medication refills. If you wait until your prescription has completely run out before telephoning for a refill, there is a possibility your physician will not be available to authorize a renewal.
When calling the office, please have the name and number of your drug store available. This will aid us in processing your refill.
HOSPITALIZATION: Our doctors generally admit their patients to Tower Health. If it is necessary for you to be hospitalized, one of our medical secretaries will make arrangements for your admission.
INSURANCE: Consult our website for a comprehensive list of insurance carriers with whom we participate. We will file claims for insured services that fall under one of these insurance programs. The payment will come directly to Eye Consultants of Pennsylvania and you should receive an explanation of benefits from your insurance company. If you are not a member of one of the insurance programs with whom we participate, payment in full is expected at the time of office service. Surgical procedures will be billed to all carriers. All non-covered services, co-payments and deductibles must be paid at the time of service.
FINANCES: Payment is expected at the time of service for patients who are not members of the insurance programs with whom we participate. All patients are responsible for non-covered services, co-payments and deductibles. We accept cash, personal checks, Maser Card and Visa in meeting these obligations.
Please discuss any financial problems with our business office at 610.378.1349 x3182, or 1.800.762.7132 x3182 between the hours of 9:00 A.M. and 4:00 P.M.
FORMS
The following secure forms are available online:
The following forms are available for downloading:
Physician information including education, training, practice location and more.
Call 800-762-7132 or make an appointment online.